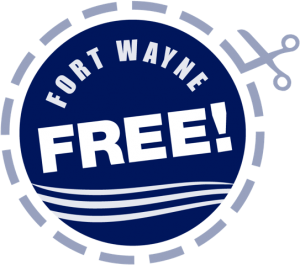 Without question, my favorite free summer activity is Rock the Plaza (RTP), an outdoor concert series that takes place every Saturday throughout the summer at the downtown library plaza. Kicking off its 6
th
season on June 2 with Afro-Disiacs and Pink Droyd, RTP has become the quintessential summer event in Fort Wayne. Kyle Haller, founder of RTP, simply wanted to play on the plaza stage.  "When I saw it being built, all I could think about was how I was going to convince the library to let me play there. I started bugging them and eventually they called me and wanted to talk," he says. Kyle and some folks from the library met, and an outdoor concert series was born. "Over 200 people came out to the first show, and we were blown away," explains Haller. Now, the event draws over 600 people per show, creating an energetic buzz in downtown Fort Wayne on Saturday evenings. Fueled by a successful first season, the library offered to host the event for a second season, and the rest, as they say, is history. Haller's dream of playing on the stage came true and more. Along with his band, Phil's Family Lizard, dozens of local bands come back year after year to play the plaza, including favorites Sunny Taylor, URB, Todd Harold Band, and Pop-n-Fresh, just to name a few.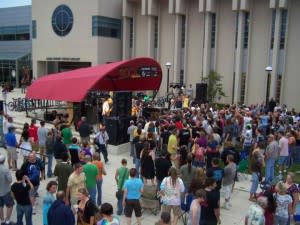 So what can we expect this year? As in year's past, the event is free and open to the public. 816 Pint & Slice will be on hand serving up tasty slices and frosty brews. Dunkin' Donuts is also open, offering a variety of sandwiches, donuts, and beverages. All shows begin at 6pm, rain or shine. "On opening night, Pink Droyd will play Pink Floyd's album Animals in its entirety, and that will be pretty rad," says Haller. "July 21 is a special night, too, as it's the last night of the Three Rivers Fest, and bands will play with the fireworks as a backdrop. This is usually the biggest night of the season for us, drawing over 1,000 people." This year, Phil's Family Lizard, URB, Sunny Taylor, and Moser Woods will grace the stage that evening. RTP is the best outdoor showcase of local talent. So, bring a blanket or a chair, and the entire family, too. Let's rock the plaza! Full schedule: 6/2/2012   Afro-Disiacs and Pink Droyd 6/9/2012    the Black Door, Ivory West, By All Means and Walkin Papers 6/16/2012   North River Agents, Small Town, and HeartBeat City 6/23/2012   Taylor Fredricks, Yellow Dead Bettys, Argonaut and Cougar Hunter 6/30/2012   Big Caddy Daddy, Juke Joint Jive and  Pop-n-Fresh 7/7/2012   Sum Morz, Hope Arthur, the Elky Summers and Pillars of Society 7/14/2012   SuperHunk, KT3, Tito Discovery and Unlikely Alibi 7/21/2012   Phil's Family Lizard, URB, Sunny Taylor and Moser Woods 7/28/2012   Kill The Rabbit, Great Flood Catastrophe and Vidal Brothers 8/4/2012   Little Logan & the Instigators,  Frankly Scarlet, Plaxton & the Void and Krimsha 8/11/2012   Grateful Groove, Marnee and Orange Opera 8/18/2012   the Wailhounds, Velvet Soul and Mimi Burns Band 8/25/2012   Todd Harold Band   Black Cat Mambo   Freak Brothers For more information, visit
Rock the Plaza's Facebook Page
.