Have you ever picked up a menu at a new restaurant and had no clue what to order?  Restaurants typically have things they're known for, but a new customer may not know what is outstanding or a house specialty.  Although a good server usually knows a great dish on the menu, not all customers ask for recommendations and instead go with what seems "safe." So instead of guessing what might be good in the Fort, here are a few favorite dishes from around the city that come with rave reviews.
Best Salad
Casa Restaurant is famous for their Insalata Casaburo, loaded with their secret recipe dressing that they sell by the bottle. This signature house salad is a mix of romaine and iceberg lettuce, Italian cheese blend, sweet peppers and green onions.  It is a perfect combination of veggies and flavor for the first course or as a light meal.  Casa Restaurant has several locations in Fort Wayne.
Best Soup
The Oyster Bar, at 1830 Calhoun Street, is known for their seafood, including their clam chowder soup, usually offered on their lunch menu.  Creamy and thick, it is full of flavor and is a great first course or light meal option.  I also like The Friendly Fox's rustic tomato soup, which is on the menu daily. With chunky tomatoes and hearty flavor, it's a crowd pleaser. Their red pepper and smoked gouda soup is also rich and cheesy, but is only offered occasionally as the soup du jour. The Friendly Fox is located at 4001 South Wayne Ave. 
Best Burgers  
Catablu Grille's American Kobe burger is outstanding and huge, loaded with flavor and tender Kobe beef. This big burger is topped with cabernet onions and tomato marmalade, a memorable combination.  Catablu is located at 6370 W Jefferson Blvd.  A second equally outstanding burger choice is Brava's Burgers at 3412 Fairfield Avenue. The Brava's burger is a fresh made patty topped with homemade chili, fries, provolone and Brava sauce. Another option is the Choriz-Oh No You Didn't burger which is a chorizo patty topped with romesco, hash browns, fried egg, and manchego cheese. During your visit, I also recommend the patatas (fried potatoes) with Brava's sauce and garlic aioli, a perfect burger side dish.
Indian
I love Taj Mahal's tikka masala, a yogurt marinated chopped chicken topped with a rich tomato sauce and delicious blend of spices.  It's an outstanding meal for those who love Indian flavors. Taj Mahal is located at 6410 W Jefferson Blvd.
Best Steak
There are many good steak choices in Fort Wayne, but one of my favorites is Eddie Merlot's filet mignon.  Cooked to your preference, it is delicious, tender, and never disappoints.  Although it is excellent alone, I like it oscar style. Eddie Merlot's is located in the Jefferson Pointe shopping mall complex.
Pasta
Biaggi's lobster fettuccine is a flavorful dish for those who love lobster and pasta together.  The black fettuccine topped with mushrooms, chili flakes and a lobster cream sauce compliments the seafood and pasta well.  This is the dish I continually go back to when I dine at Biaggi's. Biaggi's is located at the Jefferson Pointe shopping mall complex.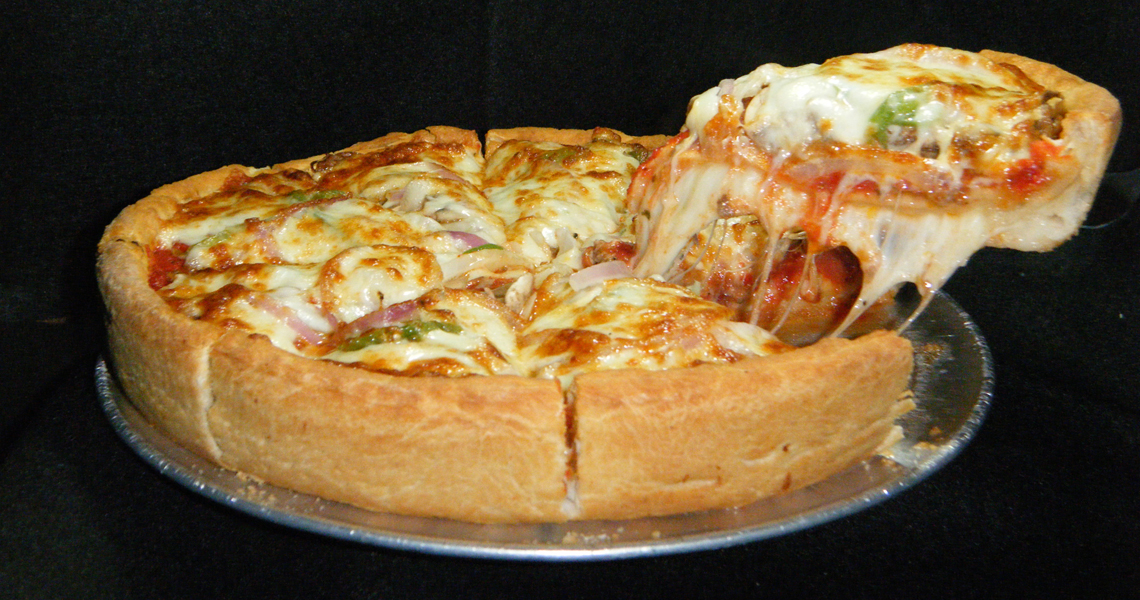 Pizza
Oley's double-crust pizza is a favorite, containing two thin crusts stuffed with their cheese blend, topped with sauce, favorite ingredients, and more cheese. It is one of the deepest and most filling pizzas in the Fort.  Be sure to allow 45 minutes for this monster to bake and order their house salad in the meantime. Ollie's Pizza is located at 0910 US Highway 24 West.
Best Light Entree
Smoked Duck Flatbread from Catablu Grille is a light, delicious flatbread, covered with smoked duck, fresh baby spinach, roasted mushrooms, cilantro sour cream and balsamic vinaigrette.  The combination of smoky flavors along with the fresh veggies makes it a dynamic light meal option with delicious summer flavors. Catablu Grille is located at 6370 W Jefferson Blvd.  
Now it's your turn:  What is your favorite dish in town?  Feel free to share in the comments!