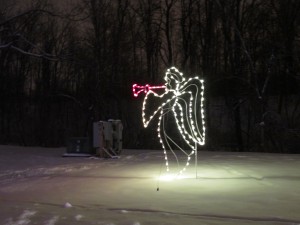 I love Christmas lights. They just lend such a cheery glow to the dark of winter… Multi-colored are a favorite, followed by millions of twinkling white lights, and then the matched sets. You know – the red and green, the white and blue, the pink and purple. Some real fun comes in, though, when the lights can create pictures – like a golden giraffe or a host of angels. One place to find a treasure trove of light pictures is the
Fantasy of Lights
, held in
Franke Park
right next to the
Children's Zoo
. You get all the joy from the twinkling, towering, figures without having to leave the comfort of your car! And, you can listen to the special radio channel, 92.1 FM, sponsored by WBCL (89.1 FM) to get the scoop on who has sponsored which display. The radio channel also provides cheery holiday music, and some good information for maneuvering your car through the dim, winding paths. WBCL, a Christian radio station, has been assisting with the Fantasy of Lights for a number of years. WBCL's Ron Schnaamann voices and produces the radio program that accompanies the Fantasy display – a job that he has held for at least ten years.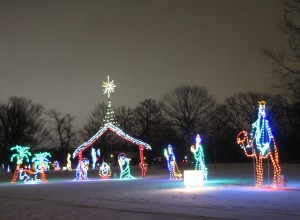 Between the jingling musical bells and the flickering lights, it's always fun to drive slowly through the tunnel of striped lights. It's sort of like traveling through the land of sweets from the Nutcracker! All the striped poles, arching over the road, just lend a perfect feeling of peace and excitement. And everyone is driving slowly, sometimes pulling over to take pictures of especially good displays. One of my favorites is the giant rocking horse, which slowly pivots back and forth. Or then there's the Santa Claus stuck in the chimney – sponsored by Nob Brick, this reminder of one of our holiday visitors is fun to figure out. Yes, Virginia, those are Santa's boots kicking around in the bottom of the fireplace. Although the trip through the Fantasy of Lights display is fairly short, it's always a good experience. It's just like going through a child's toy box, only in giant form. And what's truly neat – the shapes all move on their own – you don't even have to flip a switch! The
Fantasy of Lights
is open through New Years Eve - December 31st! Hours are 6pm-9pm Sunday - Thursday and 6pm-10pm Friday and Saturday.