Family History Month is a time for new discoveries, tips and tricks, and programs designed to help you discover more of your family history with the help of the Genealogy Center at the Allen County Public Library in Fort Wayne, Indiana. 
The Genealogy Center's 2020 Family History Month programming looks a little different this year with an all-virtual program that includes a virtual open house, virtual sessions, times when you can ask your "brick wall" questions, and more. The month-long programming may even help you get through your family history research brick wall or maybe inspire you to start researching your own family history.
Of course, you can make the most of the month-long virtual programming and research in person at the Genealogy Center which is open and ready to help you dig deeper. Research in-person for access to more than 1 million physical items, 7 top online databases, and trained genealogists who are eager to help.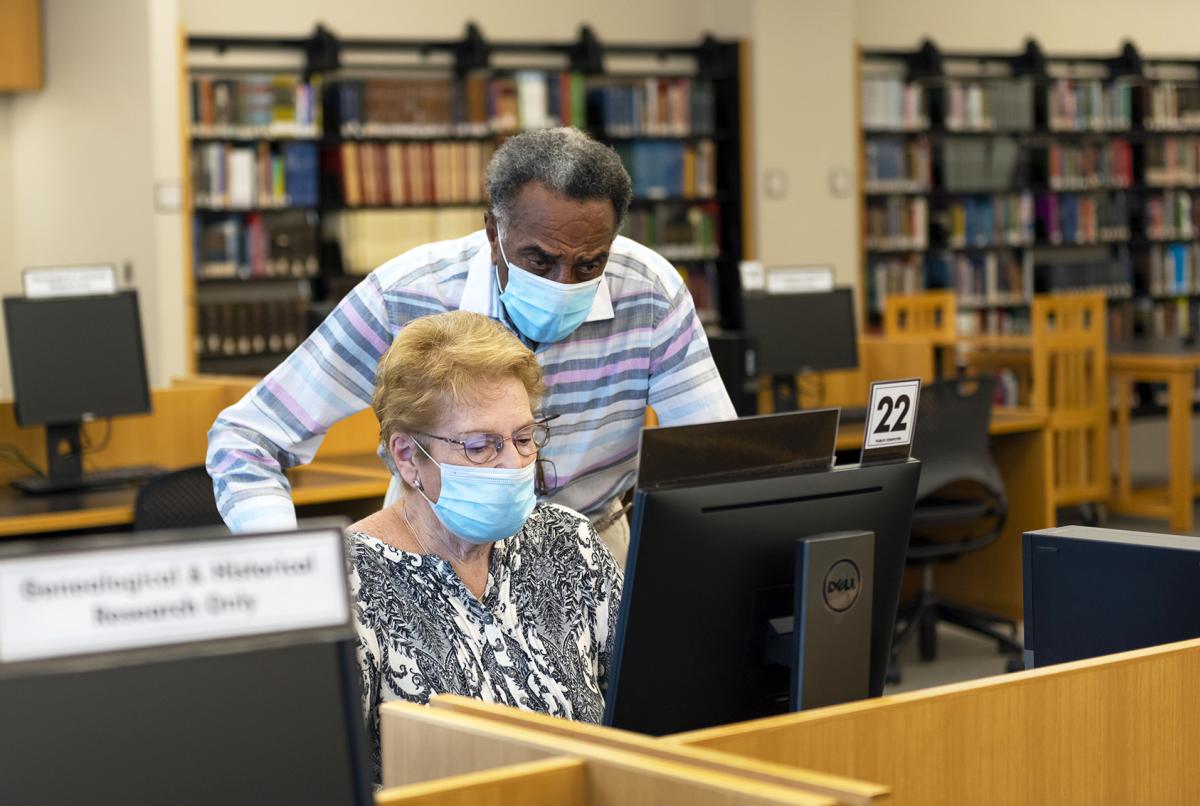 Family History Month Programs
The Genealogy Center will be hosting virtual programs throughout the month. The Genealogy Center staff have put together programs to help you dive deeper, learn how to utilize different databases, and find new ways to research your family history. Be sure to mark your calendars and register in advance to receive link information. If you miss any of the virtual programs, there will be a digital archive available at the end of the month that includes most of the programs below.
October 1: "How to Approach and Solve Brick Wall Problems with DNA," with Sara Allen

October 6 at 2:30 pm "Researching Jewish Genealogy," with Irv Adler

October 8 at 6:30 pm "The Foundation of African Americans in Fort Wayne," with the African American Genealogy Society of Fort Wayne

October 13 at 2:30 pm "Business of Railroads Impact People's Lives," with Kim Harrison

October 14 at 7:00 pm "Finding Unknown Fathers or Grandfathers by DNA," with Sara Allen

October 15 at 6:30 pm "Death Business: Searching Funeral Home Collections," with Melissa Tennant

October 18 at 1:00 pm "Meet Your Mishpocha: Virtual Open House," with the Northeast Indiana Jewish Genealogical Society

October 20 at 2:30 pm "Mayflower Research," with John Beatty

October 22 at 6:30 pm "Family History Resources at the Library of Michigan," with Matt Pacer

October 24 at 2:30 pm "The History of Your House," with Cynthia Theusch

October 27 at 2:30 pm "Online Resources of the Tennessee State Library & Archives," with Trent Hanner

October 29 at 6:30 pm "Repeating Recipes: Food and Family History," with Allison Singleton

October 31 at 11:00 am The Allen County Genealogical Society of Indiana Seminar on "Researching Our English Ancestors," with Paul Milner.
Find more virtual programming at the Genealogy Center here - https://acpl.libnet.info/events by sorting by location and selecting "Main Library Genealogy Center and/or Virtual Genealogy."

Family History Month Video Tips
For quick tips and snapshots, the Genealogy Center will be uploading twenty-one quick videos on their Facebook page throughout the month. From diving deeper into the Genealogy Center resource pages to tips on how to utilize different research techniques, these tips will provide helpful tips on how you can optimize your family history research.  
Learn from the best at the Genealogy Center this month and you'll be on your way to making your search successful. And, if you get the opportunity to research in person at the Genealogy Center in Fort Wayne, be sure to schedule a personalized appointment with Genealogy Center staff.