Kids love a Fort Wayne TinCaps' games! Little kids and even big kids enjoy the sound of the smack of the ball and the roar of the crowd. This year, I'm excited to take my two young nephews to their first TinCaps game this season. A TinCaps game is fun for the whole family!
Enjoy the antics of Johnny TinCap, the TinCaps mascot, who you may find dancing with his friends, The Bad Apple Dancers, and cheering on the TinCaps! There is something fun always happening on an off the field at a TinCaps game, and my nephews, who are 5 and 4, will enjoy joining in on the fun!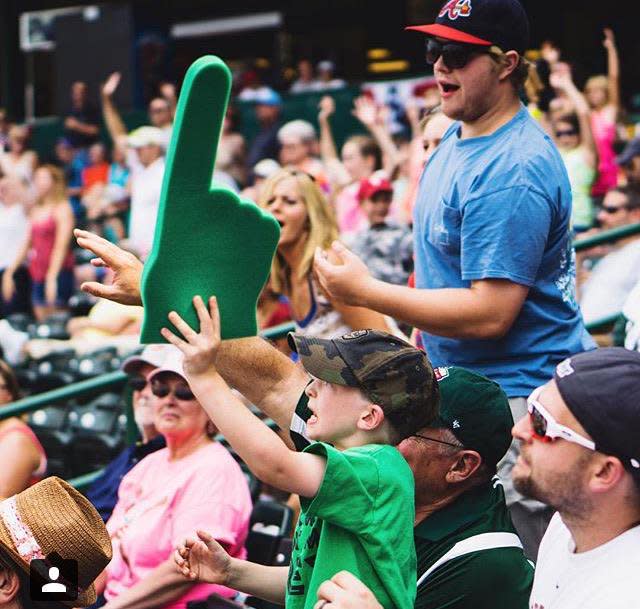 Make a note to see if there is any between inning entertainment like Jake the Diamond Dog, the canine who catches Frisbees in the outfield or brings water to the umpires during the game.
With all of the special features of Parkview Field, from the splash pad to the fireworks and the great food, you can make it a whole experience. If you arrive early, make a stop at the Kids' Zone area, which is an interactive play area complete with bounce houses and a rock wall!
My nephews will surely have a blast! If you have preschoolers or even older children, take them to a TinCaps game. It's the perfect amount of fun for weekday or weekend entertainment from April through September. TinCaps' games, truly offer little kids, big kids and even adults something to enjoy. 
Tickets for the TinCaps, Midwest League affiliate of the San Diego Padres, range from $5.00 for a lawn seat or go up to $12.50 for the stadium and special seating areas. Tickets can be purchased at the gate or in advance online.
 <