Fort Wayne, Indiana offers diverse restaurants, diners, and great food for families. From superb steakhouses to fantastic breakfasts, Fort Wayne has many options for family-friendly dining experiences that will appease even the pickiest of eaters — and won't break the bank! 
Top Family-Friendly Dining Spots in Fort Wayne, Indiana
Known as "The City of Restaurants," it's no surprise Fort Wayne has countless options for kid-friendly, all-ages dining. There's truly something for every palate, and you could browse the options for hours. To get you started, we've highlighted some Fort Wayne favorites loved by local and visiting families.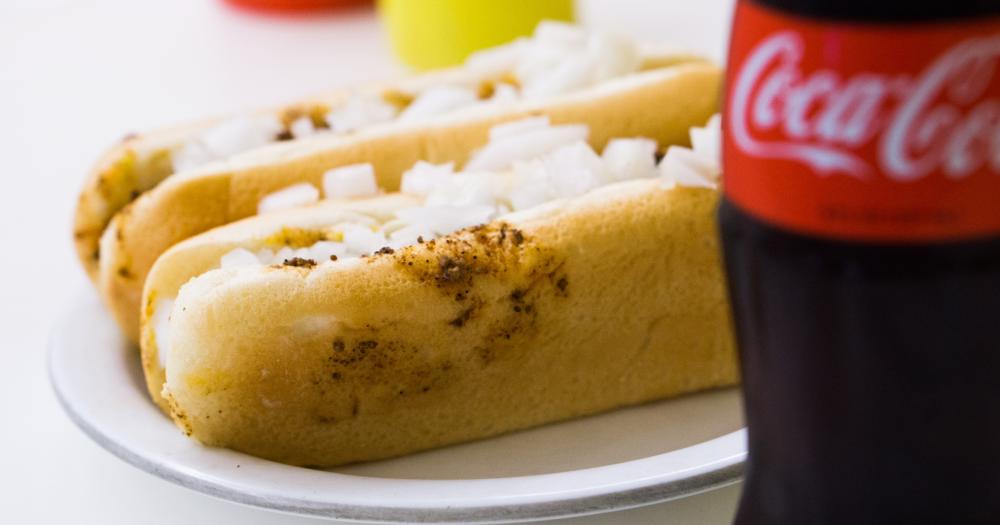 Coney Island
A beloved staple in the heart of the city. Fort Wayne's Famous Coney Island has been serving up its iconic coney dogs since 1914. Families can grab a table or choose a stool at the counter and enjoy the old-school atmosphere. The legendary "Coney Dog" comes on a steamed bun with mustard, delicious coney sauce, and hand-chopped onions. Of course, you can add cheese or remove ingredients to modify it to your liking — making it perfect for picky eaters. Complete the experience by ordering a classic Coca-Cola in the glass bottle!
131 W. Main St. | (260) 424-2997
Shigs in Pit has been voted "Indiana's Best BBQ Joint," and offers a casual, family-friendly atmosphere. From pulled pork and chopped chicken to wings and ribs, there are many different meat options for diners to enjoy. And their homemade sides, like Apple Pie Baked Beans, Green Chile Mac & Cheese, or Corn "Spoon Bread," are no joke. Plus, the kids' menu — the "Shiglets" menu — has ideal portions for ages 10 & under! View the menu.
Near Downtown — 2008 Fairfield Ave. | (260) 387-5903
Northeast — 6250 S. Maplecrest Rd. | (260) 222-8802
Southwest — 8506 Illinois Rd. | (260) 338-4888
Casa
If you're looking for slightly more upscale dining that still won't cost a fortune, Casa Ristoranti Italiano is a must-try. Known for their famous Casaburo salad and outstanding pasta dishes, Casa's four family-owned and operated locations offer generous portions of delicious Italian fare. They also feature a great gluten-free menu to suit diners' needs.
Casa Grille (Northwest) — 411 E. Dupont Rd. | (260) 338-2795
Casa Grille Italiano (Northeast) — 6340 Stellhorn Rd. | (260) 969-4700
Casa Ristorante Italiano (North of Downtown) — 4111 Parnell Ave. | (260) 483-0202
Casa! Ristorante (Southwest) — 7545 W. Jefferson Blvd. | (260) 436-2272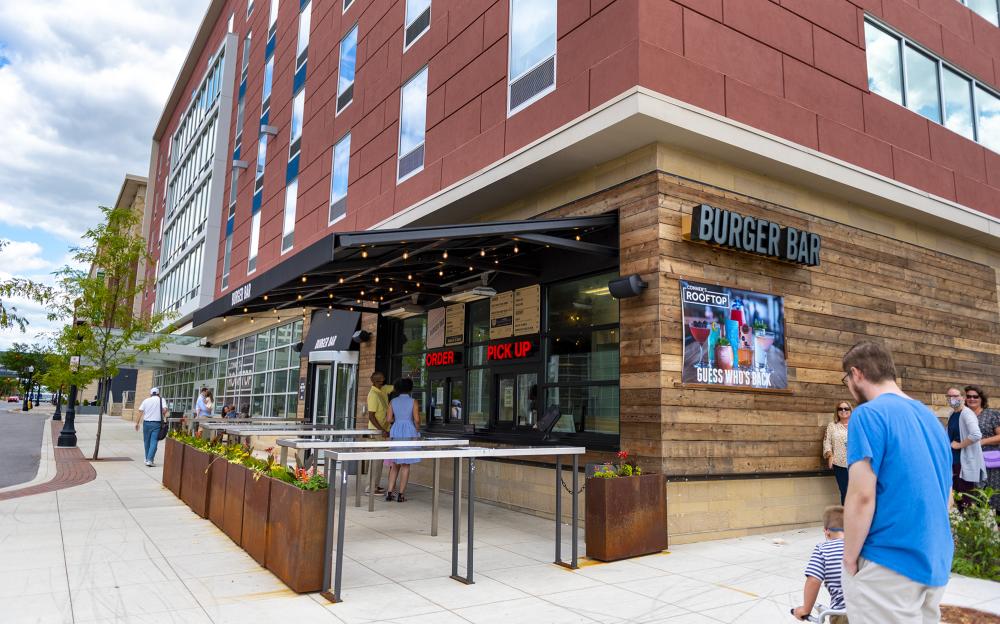 Burgers. Fries. Shakes. What more could you want? Located on the ground floor of the Hampton Inn & Suites in downtown Fort Wayne, Burger Bar features a walk-up outdoor window and tables as well as indoor ordering and seating. This is the perfect spot for everyone in the family to order a delicious burger and take it to-go or eat it there. Be sure to check out Burger Bar's Shake of the Month!
223 W. Jefferson Blvd. | (260) 467-1638
The Hoppy Gnome, also home to Gnometown Brewery, is a great spot for families looking for a great meal downtown. Their from-scratch menu features tacos, tortas, and other chef-driven dishes with seafood, steak, and vegetarian options. For the kids (and this might be our favorite part!), they offer the "Little Gnomies" menu! The kids' menu includes quesadillas, kid tacos, chicken nuggets, and more.
203 E. Berry St. | (260) 422-0070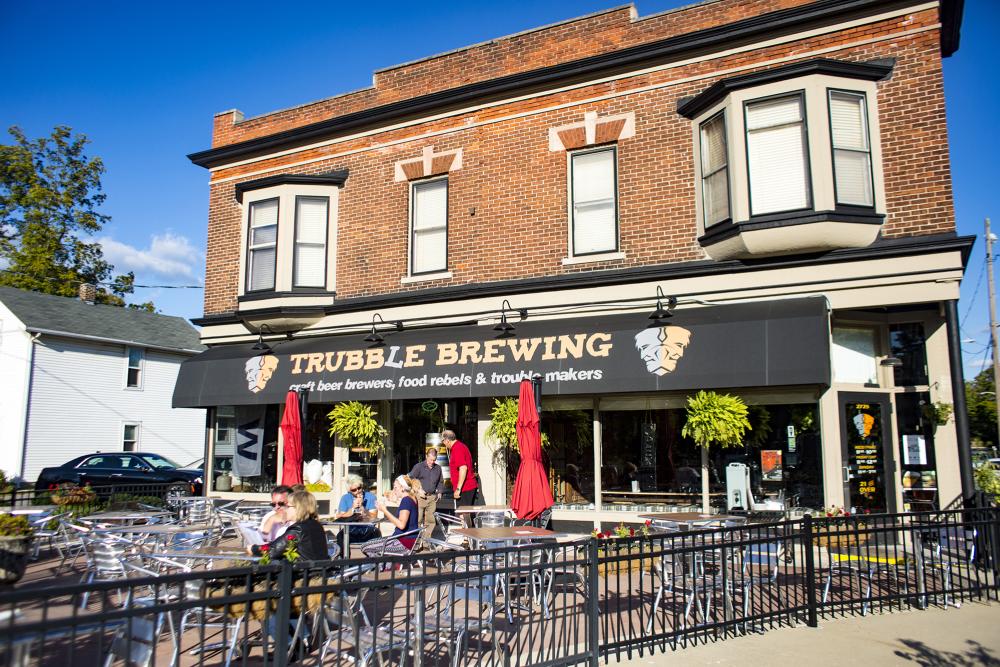 Find kid-friendly dining available at Trubble Brewing! Just south of downtown, Trubble is one of Fort Wayne's favorite local breweries. Those 21+ can enjoy a great local brew, while younger diners will love the Kid Burger, Kid Mac, or one of the fantastic pizza options to share. Looking for something near the riverfront? Head to Trubble Riverside Cafe & Tap at Promenade Park downtown, featuring delicious (and sometimes necessary!) snacks like Pub Cheese and Pretzels, plenty of kid-friendly beverages plus Trubble beer on tap for adults, and an outdoor beer garden with tables.
Trubble Brewing — 2725  Broadway | (260) 267-6082
Trubble Riverside Cafe & Tap — 202 W. Superior St. | (260) 220-8613
The Don Hall's family of restaurants is widely known and loved in Fort Wayne. What began in 1946 as one restaurant (now known as Hall's Original), became truly a family of restaurants, passed down through the generations. And each location is great for families! In downtown Fort Wayne, you'll find three Hall's restaurants at 305 E. Superior St.: The Gas House is downstairs(prime rib, seafood, steaks — the works!), Takaoka of Japan is upstairs (incredible Japanese hibachi), and, in the summer months, The Deck offers outdoor dining on the bank of the St. Marys River (salads, burgers, sandwiches, and drinks).
Find all the Don Hall's Restaurants.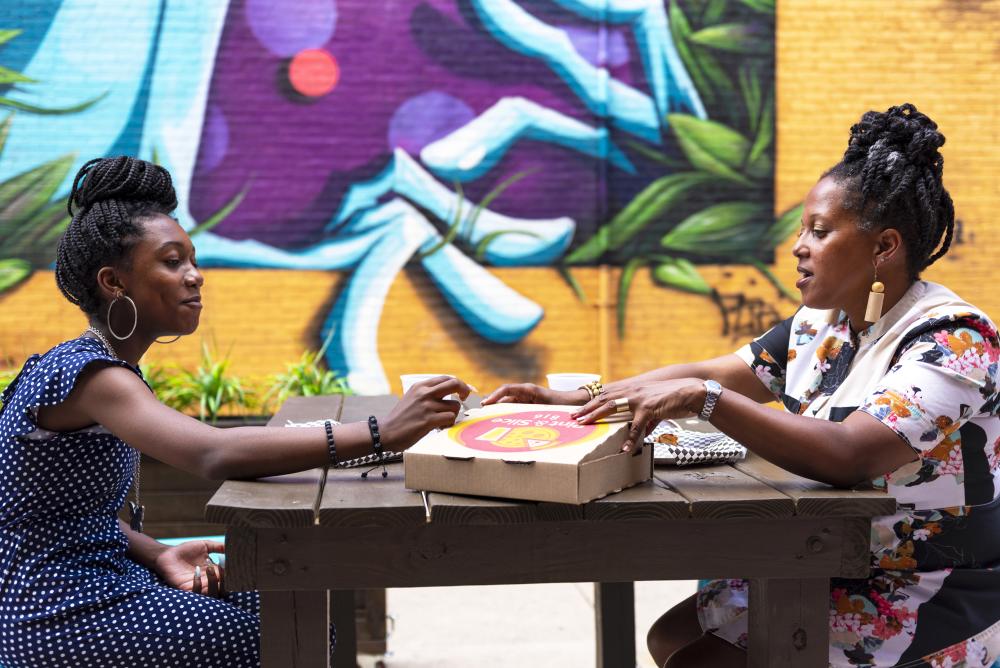 Pizza
Of course, pizza is a classic go-to for all ages. While it may be a simple choice, there's nothing basic or boring about Fort Wayne's pizza options! At downtown favorites like Big Apple Pizza and 816 Pint & Slice, enjoy thin, New York-style pizza by the slice, or order a full pizza to share. Or head down over the Alto Grado on The Landing in downtown, for smaller personal pizzas. Don't forget to try Alto Grado's S'mores Pizza for dessert! Looking for deep-dish galore? Giordano's, located about 15 minutes north of downtown, offers the Chicago-style pies you've been dreaming of. Find more recommendations in this list of top pizza spots in Fort Wayne.
Known for its fresh, diverse salsas and authentic tortillas, Salsa Grille serves up delicious Mexican cuisine in a casual setting. Select your base (bowl, nachos, salad, burrito, quesadilla — you know the drill) and your protein, then choose from a wide variety of fresh and flavorful toppings! Diners ages 12 and under can order from the "Niños" menu, with smaller portion sizes and plenty of flavor.
Taqueria (South of Downtown) — 2031 Broadway | (260) 425-9811
North — 7755 Coldwater Rd. | (260) 755-6905
Southwest — 5735 Falls Dr. | (260) 209-5049
Northeast — 5709 YMCA Park Dr. E. | (260) 492-9661
Ice Cream
Perhaps the most important meal of the day? You can't end a great day in Fort Wayne without dessert! Luckily, Fort Wayne has fantastic ice cream and dessert options to satisfy every sweet tooth. With four locations, the famous DeBrand Fine Chocolate is a perfect spot for decadent chocolates, delicious hot chocolate and coffee drinks, and rich ice cream sundaes to share. If you're in the downtown area looking for great ice cream, we highly recommend discovering all the flavors at Sweets on Main or Kilwins Chocolates, Fudge and Ice Cream. And don't forget about the amazing flavors and creations found at Just Cream in northwest Fort Wayne. Find more ice cream favorites in this list of the best local ice cream shops.