Autumn brings out so many amazing displays, and I'm not just talking about colorful leaf changes.  The time has come for breweries and wineries in Fort Wayne and northeast Indiana to bust out their seasonal brands. 
Pack your taste buds.  We're going on a virtual tour to check out new fall-inspired craft beers and wines.
A Seasonal Tour of Fort Wayne's Craft Beers and Wines
Mad Anthony Brewing Co.
Our first stop is Mad Anthony – the temple of Fort Wayne's beer scene; its Great Pumpkin, if you will.
Those who dig pumpkin-style anything should order a pint of Drunkun Punkun (yes, you're seeing that right).  The barrel-aged ale combines bourbon and pumpkin pie flavors into a fall treat.  You'll get it in a snifter glass, so prepare to look fancy.
Drunkun Punkun is a limited release, said Josh Volz, the company's marketing and design director.  You can only order it on tap at Mad Anthony's restaurant on Broadway and Taylor Street in Fort Wayne and the tap houses in Auburn, Angola and Warsaw.
Another option is Oktoberfest.  This is Mad Anthony's traditional fall seasonal – a German-style amber lager, known for its sweet, crisp bitterness, Volz said.  You can grab a pour from the pubs, or you can buy bottles from area package stores.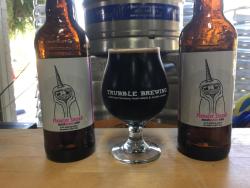 A new beer by Trubble Brewing pays homage to cool nights sitting with friends around bonfires and campfires with a new marshmallow stout.
The brewery, 2725 Broadway, plans to release Monster Smash on Oct. 28, both on tap and in bottles, said owner Keli Hankee.  From the sound of it, this marshmallow stout could have customers coming back for "s'more."
I can't promise there won't be more bad puns.
But I can say, Monster Smash is a milestone beer for Trubble.  The company brewed it in collaboration with local brewer Justin Alderman and local artist Amber Cox, Hankee said.  Cox also designed the label.
Junk Ditch, 1825 W. Main Street, also gets into the dark beer game this fall.  The brewpub has an oatmeal stout out made with local oats and hops, said co-owner Jack May.
The beer will be joined by a couple returning seasonals.  Backbone is a red ale that debuted last year.  And Mr. Jacklette is a German-style dunkel lager.
Summit City Brewerks has a malty Oktober Ale on tap now at its brewpub on 1501 E. Berry Street.  That will be joined soon by Apple Dumpling Ale.  As the name indicates, this is a blonde ale, flavored with apple and fall spices.  You may have to check in with the brewery to see if they have any of it available.
"It has gone super fast recently, and we had to make more," David Tomaszewski, SCB co-founder, said in an email.
The company also has an array of IPAs and other homebrews on tap to try out.
Who's up for a road trip?
You can find more great beers outside the Fort Wayne city limits.
The Angola-based Chapman's Brewing Co. is releasing its annual Oktoberfest seasonal beer for the fall.  That'll be followed by something new: a wet hop beer.
Wait.  What's a "wet hop beer?"
Basically, the term describes a brewing process of adding hops right after they're harvested, while they're still wet and fresh.  This gives these beers a seasonal feel since they can be made during harvest time.  The traditional method involves using hops that have been dried and turned into pellets.
Wet hop beers are gaining popularity, according to Jared Agler, head brewer at Chapman's.  They tend to be cloudier than other brews and have more body.  They're "juicy," sweeter, not as bitter, he described.
The brewery's wet hop beer was made in collaboration with the Huntington Brew Collective, using hops grown in the region.  The informal name for the new brew is Dank Shake.
"I think that's a neat name for it," Agler said.
Chapman's doesn't have an on-site pub, but distributes its brands to its tap rooms in Fort Wayne, Angola, Columbia City and Wabash, as well as to establishments and package stores.  Check with places that carry lots of craft beers, like the Hoppy Gnome in Fort Wayne, to see if they have Chapman's on tap.
Chapman's tap rooms and the Rusty Dog in Huntington will for sure carry Dank Shake, Agler said.  Be warned: He expects it and Oktoberfest to sell out quick.
Satek Winery
Shifting gears wine-lovers will get to choose from plenty of seasonals this fall.
Satek Winery, 6208 N. Van Guilder Road, in Fremont has Manzana, an apple table wine with an apt name.  "Manzana" is the Spanish word for apple.  Satek's autumn classic was kept in a rum barrel with a variety of apples for eight months.  This gives you a wine "steeped in Caribbean influence," as owner Jason Satek described it.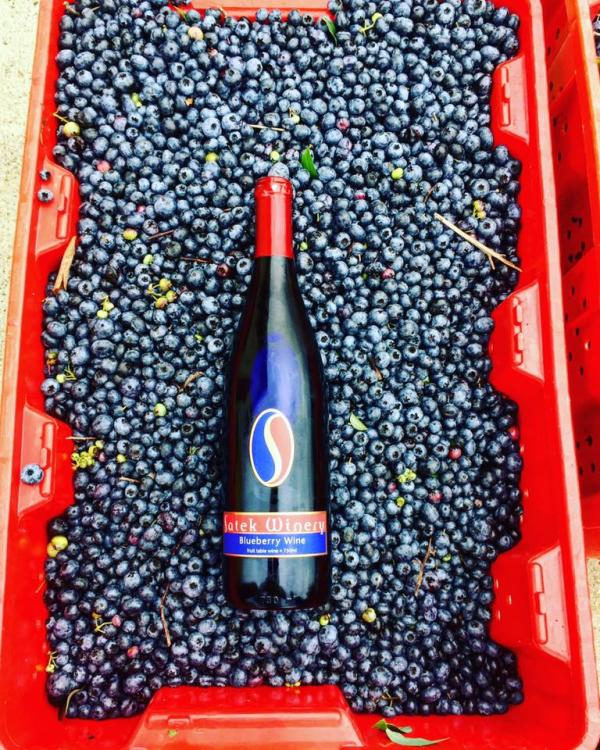 New to the company's seasonal repertoire is Framboesa, also aptly named since the word is Portugese for raspberry. 
The wine is a raspberry port-style blended with raspberry brandy.  "It's like a high-octane raspberry," Satek said.
Finally, Satek Wine Blueberry returns on Halloween.  The mulled wine helps keep drinkers warm on cold days. An old favorite, the winery has produced the blueberry for about 10 years.
Country Heritage Winery, 185 Co. Road 68, in LaOtto released its annual Fall Harvest Wine, a sweet white wine, on the first day of autumn.
Then in October, comes Dos Apples, a semi-sweet white wine made with apples and pineapples.  The apples are the dominant fruit in the blend with about an 80/20 ratio, said Jessica Dennis, the general manager.
"It's kind of a fun one," Dennis said.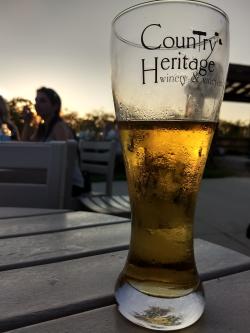 Don't slouch if this wine sounds appealing.  County Heritage made a small batch to last about a month or two, she cautioned. 
And since autumn is apple season, you can also enjoy hard apple cider at the winery. 
Two-EE's Winery, 6808 U.S. 24, in Huntington rounds out the seasonal wine offerings in northeast Indiana.
The company is releasing a hopped cider for the fall.