The food truck craze has grown into an established niche of Fort Wayne culture. Fort Wayne's weekly summer event, "Lunch on the Plaza," began in 2009. As the popularity of the event has grown, so has the presence of food trucks in the fall. It's only been within the past five years that weekly lunch or dinner from a food truck is a reliable option during the cooler months.
And what great options they are! Fort Wayne's food trucks offer everything from burgers to bento boxes. Service is friendly and the food is top-notch. Read on to find out why Fall is for Food Trucks in Fort Wayne.
The Big List - Fort Wayne Food Trucks
Visit Fort Wayne lists 25 food trucks currently serving-up mobile feasts. From farm-to-fork fare to authentic Mexican cuisine and delicious shaved ice, there are many food trucks catering to a variety of interests. You'll find a complete list of the current food trucks operating in Fort Wayne at VisitFortWayne.com/foodtrucks ​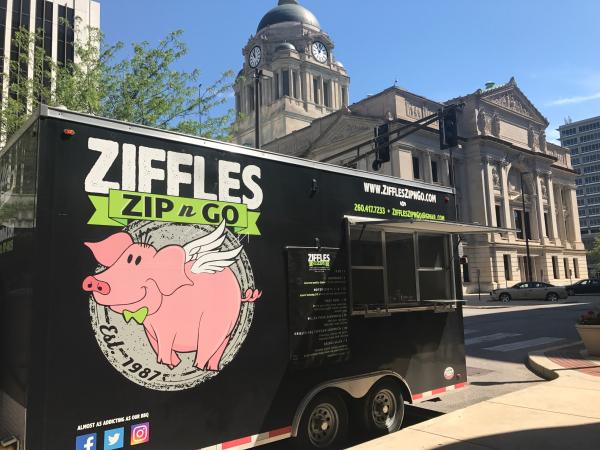 Fort Wayne Food Trucks I've Tried
The Ziffle's truck is relatively new to the Fort Wayne food truck scene, but their BBQ is a local staple. I've been eating Ziffles' ribs (from the brick-and-mortar location) for as long as I can remember. Customer favorites from the truck menu include the "Boss Hog," a cheddar-jalapeno wrap stuffed with pulled BBQ pork, French fries, and cole slaw, and the "Wasted" which is a deep-fried feast popular after midnight.
Affine was the first food truck I tried in Fort Wayne and strikes me as one of the fanciest. The food has a farm-to-fork flavor and feel. I believe the chefs butcher the meat themselves and everything there tastes fresh. The Affine Fries are wildly popular among locals. The menu also features a Fish Bahn Mi with tilapia that's unbelievable. The first time I tasted it I was sure that the stars had aligned just for me and put the perfect lunch on a food truck in the second-largest city in Indiana.
Bravas is popular among millennials – really good hot dogs that are really well-marketed. They also operate a brick-and-mortar location that specializes in burgers.
Bravas is often the most popular choice at food truck rallies and has a long line at times, but it's worth the wait. Diners can also upgrade to a gluten-free burger bun and the cook will slice your hot dog to fit.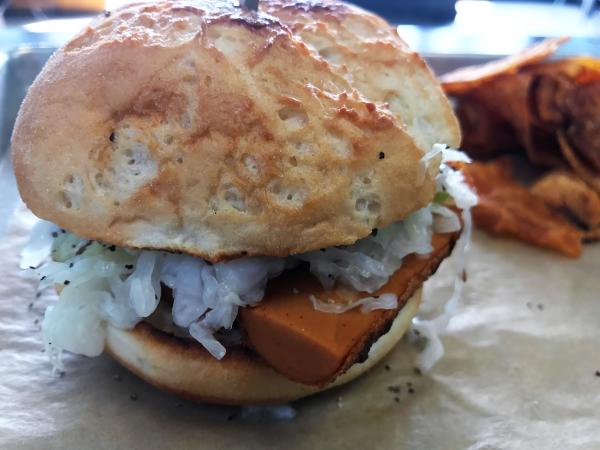 Local Tip: Bravas serves vegetarian dogs but they aren't always on the menu. Ask at the window if you're interested in going meatless.
This one is a favorite among my kids. Me...not so much, but that's only because I'm lactose-intolerant.
Who Cut the Cheese runs the gamut from simple, kid-friendly grilled cheese to high-end sandwiches made with truffle butter and local veggies. I really like their creative approach and their commitment to customer service. Most importantly, the staff at Who Cut the Cheese has always been friendly and accommodating to my children. Who Cut the Cheese deserves an A-plus on customer service!
Head 2 Hock is an Indianapolis transplant. A husband-and-wife team owns and operates this truck and the food is seasonal, delicious, and carefully made.
Head2Hock shows great attention to detail with every order, and they're happy to modify for food intolerances. I tried one of their chef-made appetizers, a pear and pork combination, and the flavor was phenomenal. Pictured below are Head2Hock's Tailgate Fries, one of their biggest sellers: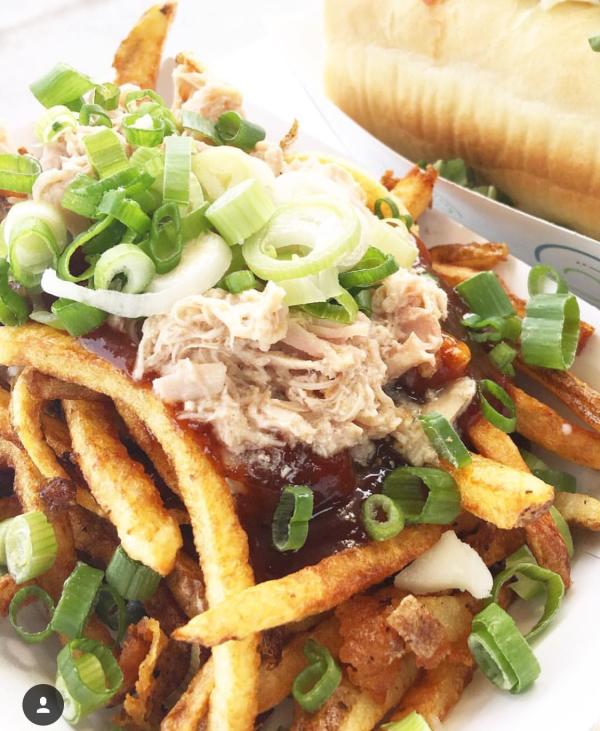 Carousel makes small-batch ice cream in unique flavors. They also feature a rotating vegan selection made with coconut milk. Customer favorites include cookie monster, salted caramel, and vegan lime.
Kona Ice offers a new twist on the classic snow cone. Lots of flavors with a multivitamin spike. They also have an option that lets customers mix their own flavor.
Are you interested in trying our city's food truck fare? Check out the Fort Wayne Food Truck Association's website for an updated calendar of food truck appearances. Enjoy!