Come out to see one of Fort Wayne's historic neighborhoods in a new and different light.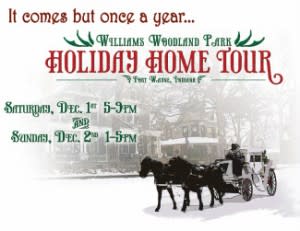 The
Williams Woodland Park
2012 Holiday Home Tour, Dec. 1-2, welcomes visitors to take in the beauty of this area's architecture. According to their website, the Williams Woodland Park Local Historic District was originally established in 1985. This area is located roughly between Calhoun to Fairfield, and Creighton to Pontiac. A slightly modified area was listed on the National Register in 1991. The district is considered significant as an early example of a planned residential development in Fort Wayne, as an intact collection of outstanding late-19th/early-20th century domestic architecture, and for its association with many prominent Fort Wayne citizens. The tour will feature seven neighborhood homes, as well as two apartments in Fairfield Manor apartment building and the
Center for Nonviolence
. The Center will host a traditional English tearoom with readings from works by Charles Dickens. The tour runs Saturday 5-9 pm and Sunday 1-5 pm. Advance tickets are $10 for individuals and $36 for groups of four. You can purchase them the day of the tour at Simpson United Methodist Church, 2501 S. Harrison St.) for $12 tickets for individuals. Children 10 and under receive free admission, so make it a family affair.
Here's where you can purchase tickets:
Antiques on Broadway, 1115 Broadway, (260)422-6505
Nature's Corner, 2307 Spy Run Ave., (260)483-5236
Lake City Bank, 6851 W. Jefferson Blvd., (260) 969-6996
Lake City Bank, 10429 Illinois Road, (260) 625-6855
 Candlelight Antiques, 3205 Broadway, (260)458-8308
 BitterSweet Gifts, 4630 Coldwater Road, (260) 432-5616
 Lake City Bank, 302 E. DuPont Road, (260) 490-1374
 Lake City Bank, 10411 Maysville Road, (260) 486-3944