When most people hear the word 'corpse', they aren't likely to think of artwork.  However, in the world of art, Exquisite Corpse is a drawing game based on an old parlor game from the early 1900s.  In the game, artists collaborate to create one piece of art by adding their individual styles to it.  This conglomeration can be humorous and insightful, and the end result is always a creative masterpiece.What is an Exquisite Corpse, exactly?
It is a game inspired by the Surrealist Movement dating back to the 1910s.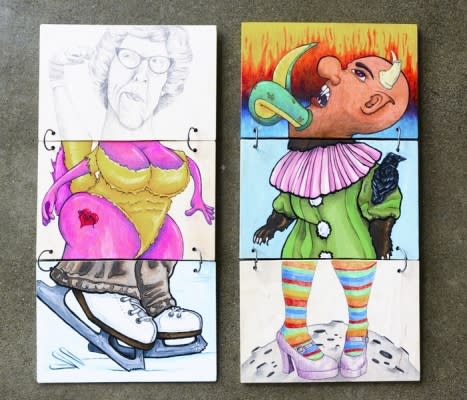 Exquisite Corpses can be played two ways: written or drawn.
The Drawn Exquisite Corpse is played with at least two artists to create a single completed piece. The paper is folded into three portions, allowing each artist a chance to draw one portion of the figure (head, torso, or legs). The first artist draws the head. When the head is drawn, the artist will extend lines from their drawing to the torso portion. The artist will fold the paper so the next artist can only see the starting lines. The same is done for the torso-to-legs transition. When all three portions have been drawn, the paper is unfolded to reveal the finished figure.
The process for the Written Exquisite Corpse is similar to the Drawn Exquisite Corpse, only it is done with words. One artist will write a sentence and pass the paper on. The second artist will write a second sentence, fold the paper over the first sentence as not to be seen, and pass it on to the next artist. Each artist is only allowed to see the very last sentence written, folding the paper to cover all of the previous sentences. This process is continued until the paper or artists' motivation is exhausted.
At Artlink this summer, we can experience some of these masterpieces ourselves. This particular art form is down my alley, as I enjoy analyzing funky works of art.  I have been to several exhibitions in the past and have even purchased some jewelry made of recycled materials, so I'm confident this quirky exhibit will be no exception for creative minds to enjoy.
This exhibit runs from June 5th - July 15th.  Come swing by the Artlink gallery sometime to check it out - it'll be exquisite!
The Artlink gallery is located in the Auer Center at 300 E. Main St., downtown. 
Hours: 
Tuesday-Friday: 10 AM-5 PM
Saturday: 12-6 PM
Sunday: 12-5 PM
260-424-7195
You can visit Artlink online here and on Facebook here.