West Central offers a mix of historic charm and modern influences at the center of Fort Wayne. Described as, "urban living at its best," the brick roads, Greek Revival-style homes, and small businesses make West Central rich in culture and community. 
When you visit West Central, you are less than 10 minutes away (by foot!) from the TinCaps stadium at Parkview Field, the Allen County Public Library, and the Riverfront which includes Promenade Park and The Landing.
Explore the Historic West Central Neighborhood
Dining, Desserts and Drinks
Sweet or savory, any time of day, West Central will satisfy all your cravings!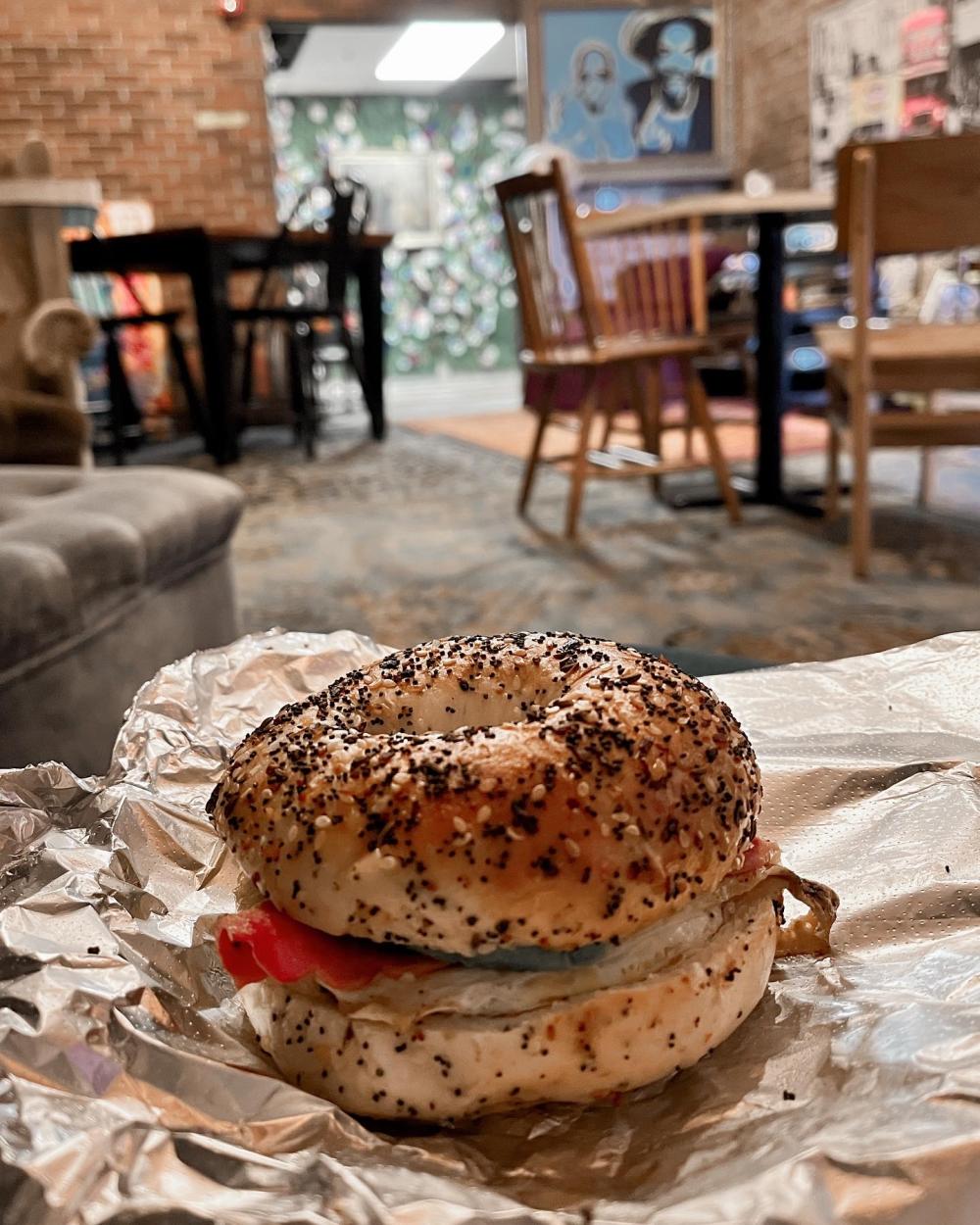 Pictured: Davey's Delicious Bagels 
Davey's Delicious Bagels, nestled inside West Central Coffee, serves steamed bagel sandwiches bursting with flavor. Locals love the Nutella Shortcake and the Beef Bacon Bandit, and there are vegan and vegetarian options, too! You'll come for the sandwiches but stay for the vintage furniture and vibrant artwork displayed throughout. 
Looking for something to satisfy your sweet tooth? Pop into Sassie Cakes for a Cookie Dough Shot, French Macaroon, or a Dump Cup - a version of "cake in a jar, only better!" And be sure to check out Brooklyn Pints Microcreamery, a small batch ice cream shop located on the ground floor of the historic Sheridan Court Apartment building.

Pictured: The Brass Rail Entrance and Mural 
Henry's is the dining destination for those 21+. A Fort Wayne Staple, Henry's is rumored to have one of the oldest bar tops in the state of Indiana. Even more famous is the food. Henry's was voted the best burger in Fort Wayne, but we guarantee you'll love whatever you choose! After dinner, head to The Brass Rail, an "old school, dive bar" for drinks and some of the best live, local music.
Coming to the West Central area in the fall of 2022 is the Union Street Market on the Electric Works campus. The Market will feature breweries and cideries, a variety of sweets and treats, and many other "innovative dining options" open daily. The Fort Wayne Farmer's Market will also relocate and call the campus home.
Shopping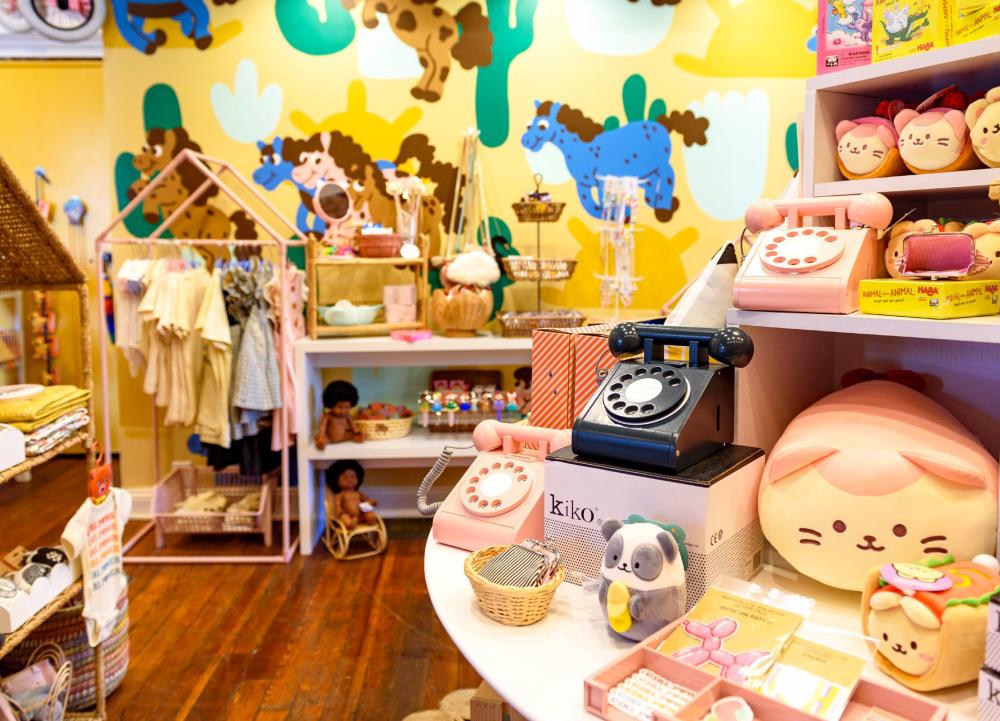 Pictured: Hopscotch House 
Looking for a spunky gift for yourself or someone special? Fancy & Staple is your destination for thoughtfully curated, artisan items with equal parts color and flair. Visit their second location for your little ones, Hopscotch House, just down the street! Each of these locations has vibrant murals on the building that are perfect for a family photo op!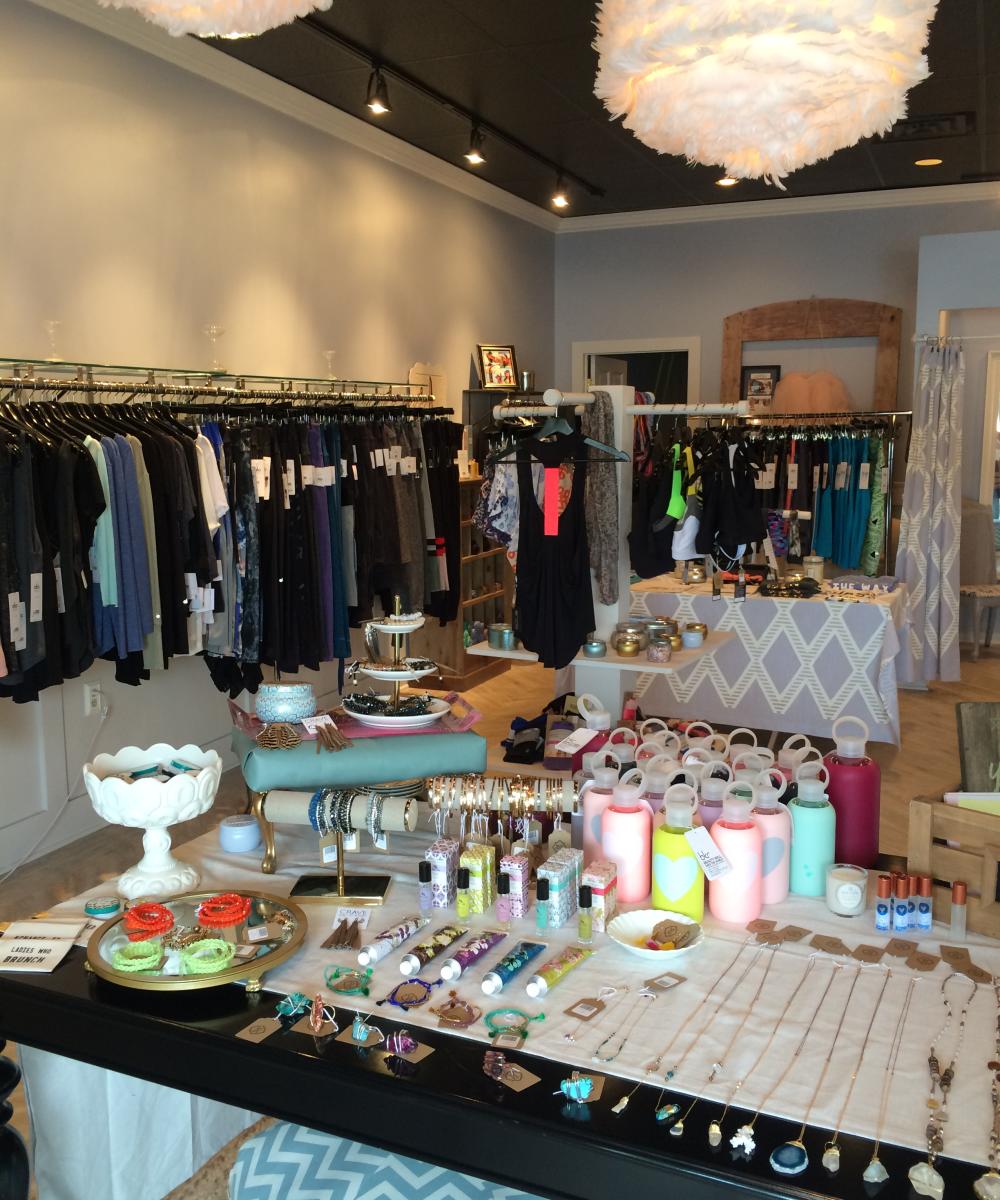 Pictured: Idlehour Boutique displays 
Update your wardrobe with a shopping spree at West Central's boutiques. The Urban Hippie offers fashionistas effortless and unique pieces inspired by 70's retro style and good vibes. Whether you like to get cozy or stay active, Idlehour Boutique has trendy clothing, athleisure wear, and accessories to keep you cute and comfortable! 
Browse aisles of glass cases, iconic business signs, and collectible items from Antiques on Broadway, then stroll on over to Sharon's Victorian House of Gifts to find even more vintage treasure!
Don't forget to shop The Hedge for letterpress designs, handmade jewelry, unique art prints, and more from local maker, Julie Wall!
Located next to Brooklyn Pints, Kistuné Moon offers "bespoke adornments for self, home, and life." Browse the eclectic gifts and selection of goods from local artists and artisans.
Last but not least, be sure to stop by Friends of the Third World, a non-profit shop dedicated to helping people around the world overcome poverty through advocacy and the sale of fair trade goods. Take home fresh coffee or a handmade gift and feel good about supporting a great cause.
Getting Outdoors 
Stretch your legs and enjoy the fresh air at Swinney Park. The park boasts paved walkways, tennis courts, frisbee golf, and much more!
If you're looking for a leisurely walk, hit the sidewalks throughout West Central for a self-guided tour. You'll enjoy a great view of the unique, intricate details on the home exteriors and gardens throughout the neighborhood. Want to see inside some of the homes? Don't miss the annual West Central Home and Garden Tour & ArtsFest every September!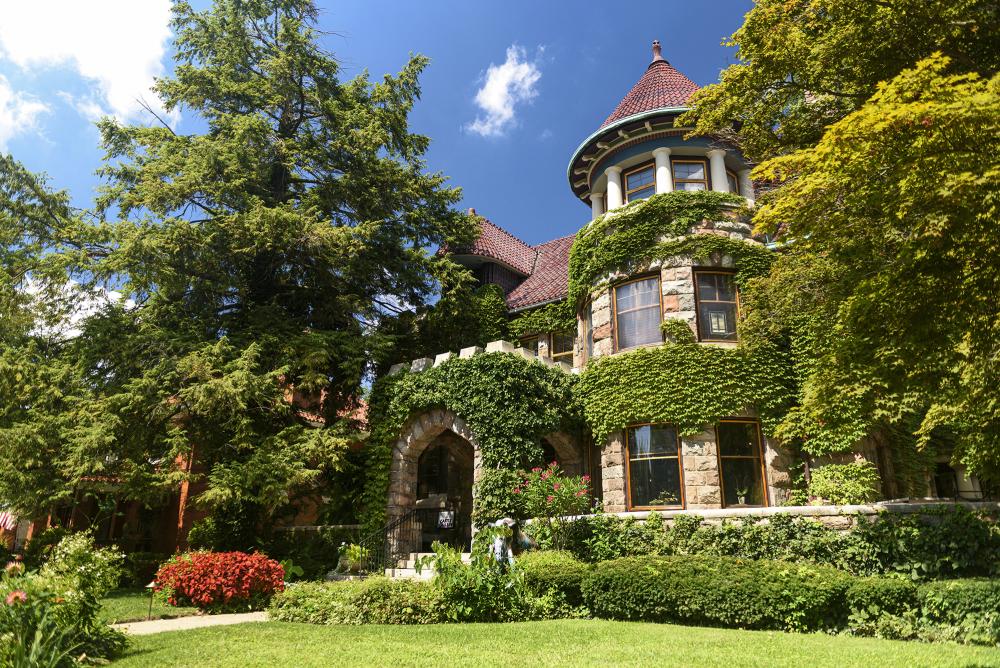 Pictured: Castle Gallery
Take in the Arts
Creativity awaits in historic West Central! Enjoy dinner and a show at Arena Dinner Theatre, where you'll discover the talent of Fort Wayne's theater community. Located at 179 Rockhill St, Arena Dinner Theatre is a staple of the neighborhood, housed in a brick building covered in gorgeous ivy.
Or, enjoy fine art at Castle Gallery, a unique gallery set in a three-story, historic mansion!