One of the very best things about Fort Wayne is the abundance of historic treasures that are lovingly cared for and celebrated by not only those who call Fort Wayne home, but also the many visitors who travel to our city each year. There is no shortage of historic neighborhoods with beautifully-restored and maintained Victorian homes, grand old theaters, gorgeous city buildings and much more.
To keep the love flowing and the history alive for these landmarks, much work is done by the local organization called ARCH, which stands for Architecture & Community Heritage (Fort Wayne). ARCH quite literally is a lifeline for historic Fort Wayne.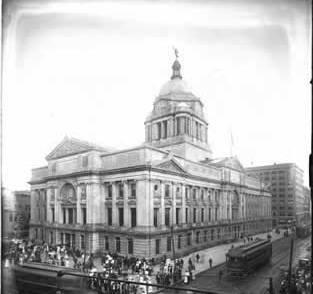 ARCH has many ongoing projects, but one of the ones visitors most often enjoy is Heritage Trail, or Trails, to be precise. There are four different trails, two that are active and two that are in the works: Central Downtown, Kekionga, South Central Downtown (coming soon) and West Central (coming soon). You can read a fascinating account of how the Trail came to be in this in-depth article.

If you are visiting Fort Wayne and want to get a feel for the overall flavor of its historic downtown, the Central Downtown Trail is the way to go. You'll pack in a whopping 19 stops and can make a whole day (or two!) out of it. Each of the stops has a historic marker updated to include QR codes, so you have the choice of reading the text on the marker or scanning the code with your smartphone to hear the audio version.

The 19 stops include:


Anthony Wayne Statue (Stop #1)

Journal Gazette Building (Stop #2)

Allen County Courthouse (Stop #4)  (Pictured up at the top circa 1902)


Old City Hall (The History Center) (Stop #7)

Eliza "Mother" George (Stop #8)

McCulloch-Weatherhogg House / First Presbyterian Church (Stop #9)

Anthony Wayne's Fort (Stop #10)

Last Two American Forts (Stop #11)

Wabash and Erie Canal (Stop #17)

Nickel Plate Railroad (Stop #18)

The Beginnings of Fort Wayne (Stop #19)

 

The Trail is free; just remember it's a walking tour, so be sure to wear comfortable shoes and put on some sunscreen. 


To set up a guided group tour, get a Trail map or buy a copy of the official guidebook, On the Heritage Trail, call ARCH at 260-426-5117 or stop by at 437 E. Berry St.

Insider's Tip:

When you've finished your tour, round out your day with a trip to Fort Wayne's famous Coney Island! Historic in its own rite, the weiner stand has been in business since 1914 and is a local and visitor favorite. You can find it downtown at 131 W. Main St.