Mm, smell that crisp, autumn air? There's a certain tanginess to it, a welcome relief from the mugginess of summer.
If you're new to Fort Wayne, or just stopping here long enough to check out the town, you might want to get an up-close view of what our local flora and fauna look like. So, tie on your walking shoes and grab a jacket. We've got a little touch of wilderness right in the middle of northeast Fort Wayne, and autumn is the perfect time to see our piece of nature at its colorful best.
The Native Trees of Indiana Walk is a spacious, asphalt-paved 1.25 mile-long pedestrian trail. According to the online map from the Hoosier Rails to Trails council, the Walk stretches from the entrance of Indiana University-Purdue University Fort Wayne (IPFW) at St. Joe Road to North Anthony Boulevard.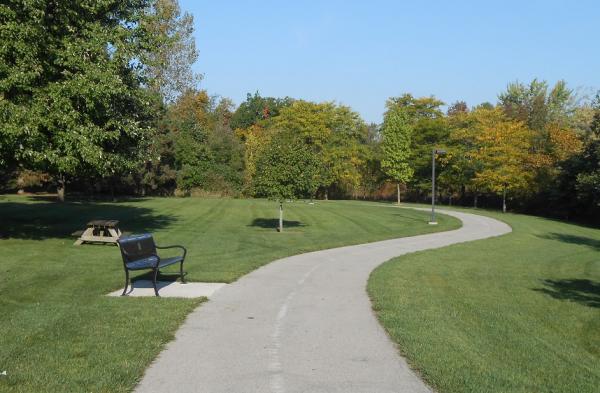 The trail is eight feet wide, so there is plenty of room for walkers, joggers, bicyclists and rollerblade enthusiasts. Some people like to take a stroller, too, to give the kids some fresh air.
What you really notice when you're on the walk is how wild it feels. There is an estuary of the St. Joe River that meanders close by, and the brush growing around it is practically untouched. On a still morning, the water reflects the shaggy grasses and waiting leaves with a mirror-like quality.
The birds, too, love this place. From the geese that nest nearby to the ducks and an occasional crane, there is plenty of wildlife to spot. The little songbirds that live here are always ready with a cheery tune, and in the early mornings, their clear notes carry across the water to serenade students and walkers hurrying past. In the evening, their songs are softer, as though they are hushing the world for a good rest.
And then, of course, there are the trees. Some spots you walk through have a cathedral feeling, branches arching overhead for dozens of feet. It is cool, shaded, and rustling with color. Vibrant red Virginia Creeper wraps around tall trunks and gives a splash of contrast. Then the trees slowly start to turn, first, a small branch becoming gold here, then more. One leaf decides to take the plunge, and then the world is full of rustling, crunching bits of autumn. It is the perfect place for a fall walk in Fort Wayne.