Violins of Hope have toured cities around the world and will now come to Fort Wayne, Indiana. November 9–24, experience a series of events that showcase this powerful collection of restored violins played by Jewish musicians during the Holocaust. 
Amnon Weinstein—a renowned Israeli violinmaker—has spent decades restoring these "Strings of the Holocaust." The collection of instruments tells remarkable stories of defiance, resilience, and legacy of the Jewish musicians, paying tribute to those lost during the Holocaust, including many of Weinstein's own family members.
Guide to Violins of Hope in Fort Wayne, Indiana
Thanks to the Jewish Federation of Fort Wayne and the Fort Wayne Philharmonic, our city has the opportunity to experience the Violins of Hope with 16 days of music, visual art, theater, public conversation, interfaith dialogue, readings, and educational activities throughout Northeast Indiana. Use the guides below to help plan your Violins of Hope itinerary by interest.
Music
This exhibit is a testament to the power of music—its ability to inspire hope even in the darkest times and to tell a story that lives on for generations. With the guidance of the Fort Wayne Philharmonic, the Violins of Hope exhibit is accompanied by concert performances that illuminate the stories of the Jewish people during the Holocaust.
Philharmonic Youth Symphony Orchestras: The Violins Live On
November 10 / Rhinehart Music Center at Purdue University Fort Wayne
The Fort Wayne Philharmonic Youth Symphony Orchestras will perform works by three Jewish composers linked to the Holocaust, giving voice to the violins that have survived and lived on. *Tickets required.
Violins of Hope: Stories of Defiance, Resilience, and Legacy
November 14 / Allen County Courthouse
Join the Philharmonic, Fort Wayne Ballet, Heartland Sings, Purdue Fort Wayne Choral Ensembles, and Fort Wayne Children's Choir at the Allen County Courthouse. A guest speaker will weave a narrative throughout the concert, telling stories of heroic musicians who inspired the Strings of the Holocaust.
The Klezmatics
November 16 / Embassy Theatre
This globally-renowned, Grammy-winning klezmer group joins the Violins of Hope events with a show at the Embassy Theatre! Their performances incorporate tradition and spirituality of Eastern European Jewish roots, with music that is "wild, mystical, provocative, reflective, and ecstatically danceable." *Tickets required.
Three Rivers Choral Festival: Voices of Hope
November 16 / Auer Performance Hall at Purdue University Fort Wayne
Purdue Fort Wayne Choral Ensembles, Heartland Sings, Fort Wayne Children's Choir, and guest choirs will perform works by Jewish composers, including a world premiere based on the Violins of Hope, commissioned for the event. *Tickets required.
Violins of Hope: Freimann Quartet
November 16 / Allen County Public Library
The Philharmonic's premier ensemble, the Freimann String Quartet, will perform a captivating program of Holocaust-era works, as well as Jewish and klezmer tunes, ending with the main theme from John Williams' score to Schindler's List.
Fort Wayne Philharmonic: Violins of Hope — Closing Concert
November 23 / Embassy Theatre
Sixteen violins that survived the Holocaust. Three composers banned by the Nazis. The Violins of Hope closing concert with the Fort Wayne Philharmonic will tell the stories of defiance, resilience, and legacy, offering a moving testament to the power of music. *Tickets required.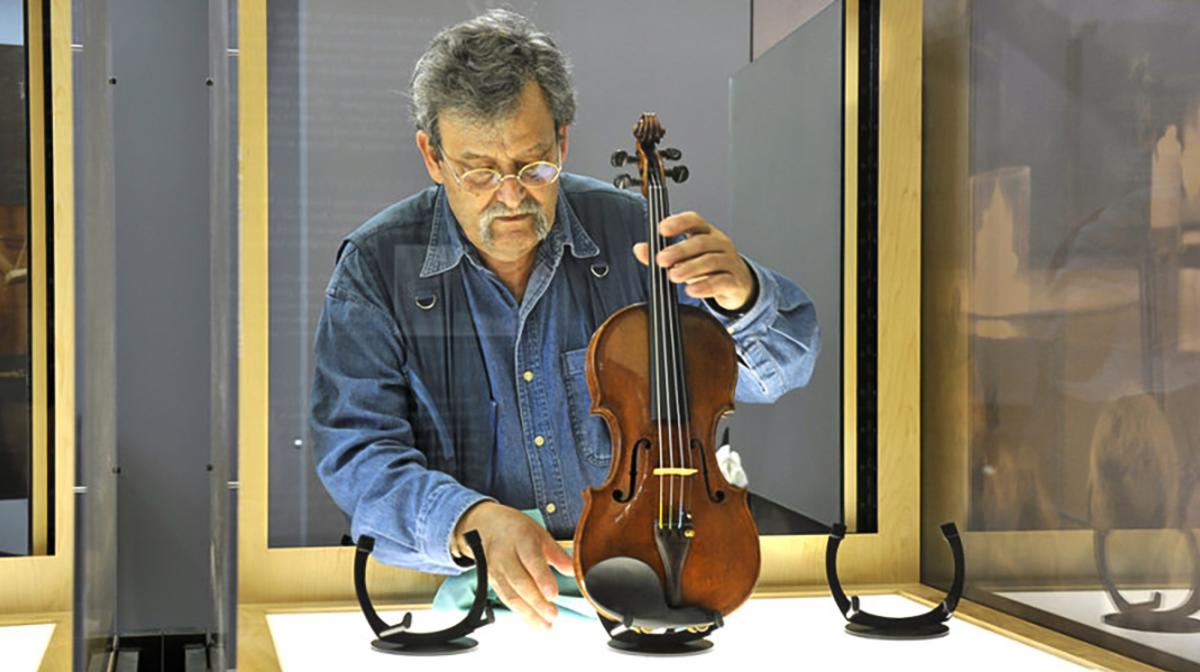 Visual Art
Take in the Violins of Hope through different visual experiences, from the main gallery exhibit to special movie screenings.
Violins of Hope: Strings of the Holocaust
November 9 – December 1 / University of Saint Francis School of Creative Arts
View and contemplate the Violins of Hope, an exhibition of instruments that survived long, dangerous journeys of the Holocaust. Discover the story and legacy behind each violin as you reflect on these instruments that will never be silenced. Docents will be on-site during gallery hours November 9–23.
Defiance
November 18 / Purdue University Fort Wayne
Watch a free screening of the movie Defiance, starring Daniel Craig. The movie tells the story of the three Bielski brothers who escaped SS control in 1941, joining thousands of others to battle against German forces occupying their country. One of the brothers, Asael Bielski, would become the father-in-law of Amnon Weinstein, founder of Violins of Hope. Asael Bielski's grandson, Avshalom Weinstein, will join a panel discussion on November 19. 
The Pianist
November 10, 12, 14, 15, 17, 20, 21 / Cinema Center
In this Academy Award-winning film, Adrien Brody plays Wladyslaw Szpilman, a brilliant pianist and composer whose highly-acclaimed talents and promising career are interrupted by the onset of WWII. *Tickets required.
Theatre
Ghetto
November 15 – 17, 21 – 13 / Purdue University Fort Wayne Williams Theatre
Written by Israeli playwright Joshua Sobol, Ghetto offers a glimpse into the experiences of the Jews of the Vilna Ghetto during WWII. The play focuses on the Jewish cabaret-style theatre in the ghetto, incorporating live music and historical figures. *Tickets required.
Lectures and Discussions
A Conversation with James Grymes, Author of Violins of Hope
November 10 / Allen County Public Library
Don't miss this chance to hear from James Grymes, author of the powerful Violins of Hope book. The conversation, moderated by PBS39 General Manager, Bruce Haines, will include an interview with Grymes and questions from audience members about the book.
Guitars and Violins: Tone, Wood, and Structure as Described by the Luthiers That Build Them
November 12 / Sweetwater
Two world-class luthiers—one violin, one guitar—demonstrate the differences in how they approach their string instrument building craft. Using centuries-old traditions, they create one-of-a-kind instruments.
Researching Victims of Survivors: Holocaust Genealogy
November 17 / The Genealogy Center at the Allen County Public Library
Megan Lewis, a well-known reference librarian at the U.S. Holocaust Memorial Museum, will lead a lecture about using unique genealogical resources to research and trace Holocaust victims, survivors, and family members.
Perspectives on Defiance: The Courage of the Bielski Partisans
November 19 / Purdue University Fort Wayne
After the screening of Defiance, return the following day for a conversation with a panel of noted Holocaust scholars, as they examine the film. Avshalom Weinstein, Violins of Hope luthier and grandson of Asael Bielski, will join the discussion with unique insight.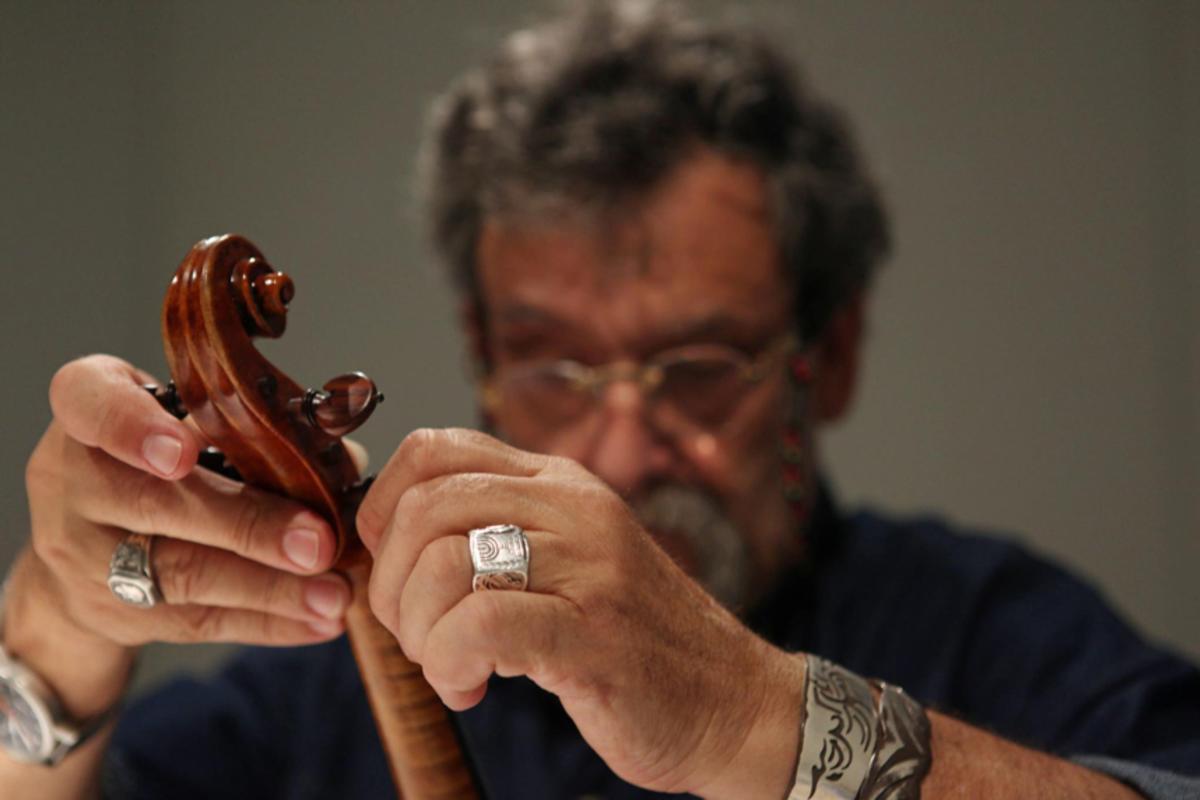 Religious and Interfaith Events
Shabbat Service
November 15 / Congregation Achduth Vesholom
This special Violins of Hope Shabbat service will highlight the music of European Reform synagogues in the years leading up to the Holocaust. A quartet of musicians will play the Violins of Hope alongside the Temple's Hazemir Choir, as the service observes a memorial to Kristallnacht, the Night of Broken Glass.
Jewish-Catholic Prayer Service
November 20 / St. Elizabeth Catholic Church
Rabbi Paula Jayne Winnig from Congregation Achduth Vesholom will join Bishop Kevin C. Rhoades for a prayer service focusing on the Psalms, and religious connections shared by the Jewish and Catholic faiths. Musicians will play selections from Jewish and Catholic faith traditions on the Violins of Hope.
Planning a visit to Fort Wayne to experience Violins of Hope? Find more information for your visit here.