Christmas has a magic about it that conjures up feelings of peace and harmony all over the world. Many of us are drawn to the spirit of the day with memories of childhood wishes coming true, the warm glow of a fire in our fireplace, and the love that comes from family gatherings. Whether we join our hearts preparing for this special day by donating our time, wrapping gifts to put under our tree or smiling at the excitement in our children's voices...the days leading up to Christmas can warm our hearts forever. If you are looking for something "unique" or "wholesome" to do this season, or just something that brings you back to your roots...then look no further. You can find some magic by visiting Fort Wayne's Salomon Farm "Christmas on the farm" this year!
The History: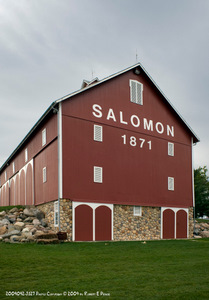 Salomon Farm Park is a Fort Wayne landmark that serves as an educational, entertaining and recreational farm set in the 1930s. Not only does the farm offer locally grown, organic produce (Yes!
They really do have all the wholesome goodies we all love....fruits and veggies, herbs, plants and pretty flowers, pure maple syrup and honey), they also strive to meet many other needs and desires of families all around the Fort Wayne area. From programs and classes for adults and children related to nature, hiking, cross-country skiing and bird watching... to free family entertainment like Christmas on the Farm!
Mark your calendar now and join us for a traditional Christmas celebration on the farm with a live nativity scene, horse and tractor drawn wagon rides, stories from St. Nicholas and refreshments.
Make this a new family tradition! There is no admission charge.
Saturday, December 3, 6:00-9:00 p.m.
Salomon Farm Park, 817 W. Dupont Rd.
Experience the magic and beauty of Christmas this year by stopping by the farm for so many    warm memories to be made...a new tradition to begin the season.