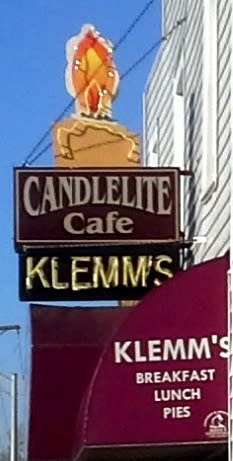 If you're looking for a delicious, home-cooked meal in a cozy atmosphere whether you're from out of town or located right here in Fort Wayne, then Klemm's Candlelite Café is the place to go!
Klemm's is located on State Blvd., just inside the East State Village neighborhood, and within walking distance of Zinnia's Bakehouse and Abby Brown's Candy Shoppe.
When I walked in, I immediately felt a reprieve from the hustle and bustle of the city; the casual décor and friendly banter between the waitress and other customers created a small-town feel that reminded me of home.  It also has Wi-Fi, in case customers want to work while they dine. Klemm's serves breakfast all daylong, which I appreciate because I love eating breakfast food later in the day.  On Wednesdays, the Café serves pan-fried chicken – a customer favorite – from 11:00 a.m. – 2:00 p.m.
Even though the Southwestern breakfast wrap sounded fun, I opted for the famous "Garbage" and toast breakfast instead.  Friends had recommended this to me because of its unique name, so I decided to give it a try.  The "Garbage" mixture consists of scrambled eggs, sausage, hash browns, onions, peppers and tomatoes.  (You can also get an optional side of gravy.)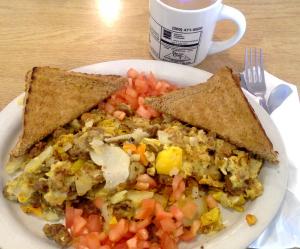 I'm not sure what actual garbage tastes like, but I'm pretty sure it doesn't taste this good!  I wasn't able to finish the large portion, but I'll be sure to recommend it to my friends, too. Klemm's also serves a variety of sandwiches, soups and wraps that are bound to keep you warm on a cold, winter day.  Some customer favorites, besides "Garbage", are the homemade rolls, club sandwiches and their delicious pie flavors.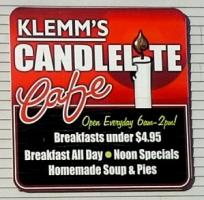 Come to Klemm's and see for yourself what has kept the locals returning for the past 35 years.  Bring your appetite to this home away from home! Klemm's Candelite Café is at 1207 E. State Blvd. 260-471-6828 7 days a week, 6:00 a.m. – 2:00 p.m. for breakfast/lunch/coffee