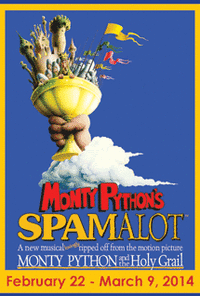 Be sure to catch the classic Monty Python comedy before curtains close at the Arts United Center in downtown Fort Wayne! Spamalot runs through March 9 and is promised to be an event of chuckles and jokes you don't want to miss.
Spamalot is the comedic version of the story of King Arthur and his Knights of the Round Table. Only in this story there are flying killer rabbis, gorgeous showgirls, clever lyrics and strange plot twists. This screen classic is brought to life by fine acting and live music. Spamalot is also the 2005 Best Musical Tony Award Winner. The Fort Wayne production is directed by Doug King and features the book and lyrics of Eric Idle and music by John DuPrez and Eric Idle.
Spamalot: Upcoming Shows Friday, February 28  8 p.m. Saturday, March 1  8 p.m. Sunday, March 2  2 p.m. Friday, March 7  8 p.m. Saturday, March 8  8 p.m. Sunday, March 9  2 p.m.
The Arts United Center is conveniently located downtown at 303 E. Main St. For tickets you can visit the box office in person during business hours or call 260.424.5220. Insider Tip: While humorous, this production is best left for adults only. This unique musical does contain topics of sexuality and violence.