The Leo Cedarville Chamber of Commerce will sponsor Art at the Riverside on September 28 at the beautiful Riverside gardens on the bank of the St. Joe River in Leo, Indiana.  The event is a juried art show designed to showcase area artists and to provide scholarships to local students pursuing careers in the arts.   Visual arts, music arts, dance and culinary arts will all be featured in this year's show.  In addition, FOODCATE: Culinary Arts Food Truck Exposition, a juried culinary arts competition, will be hosted by the Fort Wayne Food Truck Association.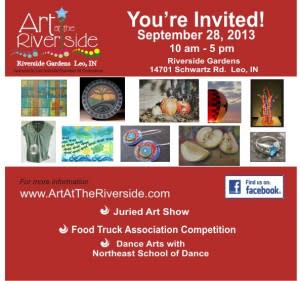 To date the list of artists participating in the show includes:
Richard Heffelfinger
Terry Armstrong
Kristy Jo Beber
Holly Heath
Wayne Harshberger
Lisa Vetter & Paul Seifert
Mike Brumbaugh
Diane Schafer-King
Nicole Moore
Becka Stachan
Dianan Overmeyer
Brenda McConnehey
Joy Lohse
Bethany Posa
Julie Stucky
Matt Breunig
Bryon Thompson
Andrea Bojrab
Amber Walker
Jason McCall
Kelly Meska
Sarah Thompson
Ann Peperak
Riverside Gardens is located at the corner of Schwartz and Grabill Road between the villages of Leo and Grabill in Northeast Indiana.  The event will take place between 10 a.m. and 5 p.m. on Saturday September 28. For a map to the event and more information visit their website.