What better way to feel and experience the true meaning of Christmas than to visit a real-life nativity scene? These events are truly unique and offer visitors the chance to engage themselves and to have a great time all in one.
Can you imagine putting the birth of Jesus into a physical and visual experience? When you take a moment to think of the Nativity of Christ, to visit Bethlehem on the night that Jesus was born, and to feel the physical sensations of how it really was....you can be assured that you are a part of something extraordinary.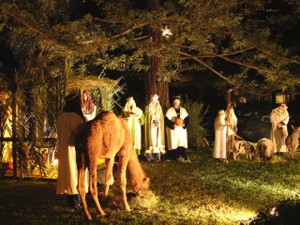 There are several great nativity scenes being planned in our community. From Salomon Farm, who is hosting a wonderful family event with refreshments and more, to the University of St. Francis, who invites you to their Living Nativity featuring real-life animals in a petting zoo! In addition, you'll enjoy the annual Christ Child Festival at the Memorial Coliseum and the Leo United Methodist who offers a "Walk Through Bethlehem."
The Events!
Salomon Farm, "Christmas on the Farm"
 Saturday, Dec 3 6:00p to 9:00p.m.
Traditional Christmas celebration on the farm with a live nativity scene, horse and tractor-drawn wagon rides, stories from St. Nicholas and refreshments.  
University of St. Francis "Living Nativity"
In the amphitheater next to the Pope John Paul II Center, the character of St. Francis narrates the Christmas story as it unfolds. A petting zoo with the animals will be available for children free of charge from 5:30 to 5:50.  
Memorial Coliseum "Christ Child Festival"
 Friday, December 16 : 6:00 PM - 9:00 PM
 Saturday, December 17 : 12:00 PM - 8:00 PM
 Sunday, December 18 : 12:00 PM - 6:00 PM
Located in the Expo Center - Free Admission  
 Leo United Methodist Church, "Walk through Bethlehem"
 December 3, 2011 5:00-8:00 p.m.
December 4th, 2011 2:00 - 5:00 p.m.
Location: Leo United Methodist Church, 13527 Leo Rd., Leo, IN Phone: 260-627-2161 The Leo United Methodist church will be holding their annual Walk through Bethlehem the first weekend of December. This event is a re-creation of Bethlehem as it may have been at the time of the birth of Jesus. The journey through Bethlehem begins as you enter the gates of Bethlehem and culminates at the manger. Here visitors are invited to take a few moments to reflect on the miracle of Christ's birth.   These are a few of my favorites - do you know of any others that I should add to my list?