Festival season in Fort Wayne is upon us! From June through September, spend a weekend in Fort Wayne celebrating our many festivals.
Fort Wayne is home to many summer festivals that focus on a variety of different interests and celebrations. 
Celebrate diverse cultural heritage, taste some of the best food, or celebrate with a variety of unique festivals happening every weekend in Fort Wayne's many festivals.
Discover all of Fort Wayne's Summer Festivals at VisitFortWayne.com/festivals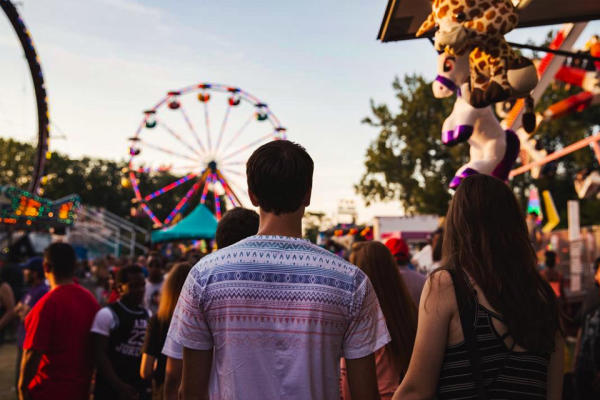 Everything you Need to Enjoy Fort Wayne's Festivals
Before you enjoy one or many of Fort Wayne's fantastic festivals, here's everything you need to know before you descend upon Fort Wayne.
Before
Transportation
If you're staying in downtown Fort Wayne, consider walking to many of our shops, restaurants, and attractions, or use an Uber or taxi. If you're staying outside of the downtown area to save on cost and managing transportation, a car would be your best option.
To navigate Fort Wayne, utilize our downtown map and greater Fort Wayne map. 
Most of Fort Wayne's festivals happen in downtown Fort Wayne in our Headwaters Park, or on our main street arts campus. 
Two festivals that are not located in downtown Fort Wayne are Gearfest and the Covington Art Fair. Gearfest is located at the Sweetwater campus, a 10-minute drive west of Fort Wayne. The Covington Art Fair is located in Covington Plaza, which is also about 10 minutes west of Fort Wayne on Jefferson Blvd.
Parking
If you're utilizing a car to transport you around during your stay in Fort Wayne, then you will need this handy downtown parking map. Most parking in Fort Wayne can be found in public lots, on-street, or in parking garages, all of which are affordable.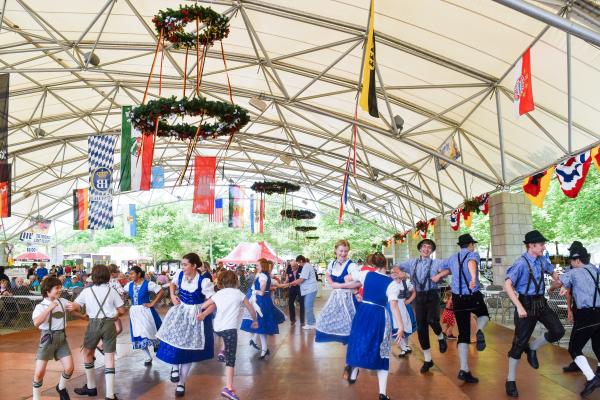 Items to Pack
Indiana weather is notorious for being temperamental on any given day, so make sure you are prepared with layers and an umbrella for shade and rain protection.
Also, it is important to bring some cash for any purchase you may make at the festival. Some expected purchases like food tickets, entrance fees, or souvenirs could require cash.  And, don't forget your license! Some portions of festivals are 21 and older, and you will not be admitted without your license.
Festivals like Hobnobben Film Festival and Middle Waves Music Festival 2020 require tickets. Before you make your way to Fort Wayne, be sure to check out their schedules online to see what shows and activities you would like to enjoy, and then book your tickets in advance!
Accommodations
While you're planning your getaway to Fort Wayne, add some extra time into your schedule and stay an evening to savor all that Fort Wayne has to offer!
A couple of tips when deciding on your Fort Wayne hotel - consider what you would like to experience in Fort Wayne and then base your search on the four areas of Fort Wayne -  Coliseum Blvd. area, Downtown Fort Wayne, North of Fort Wayne area, and Southwest of Fort Wayne area. 
Plus, don't forget about the many hotel packages area hotels provide!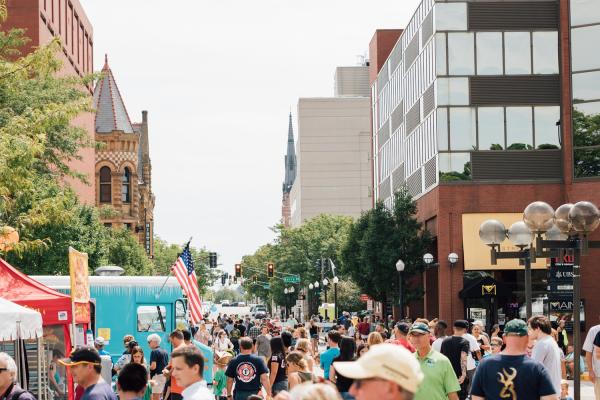 During
Time
Most festivals run on Saturdays and Sundays from midday until the late evening (or, even later for some events like Hobnobben and Middle Waves 2020). Of course, most of the busy times will take place around dining hours (lunch and dinner), so we suggest planning out your day around the festival. First, check the schedule of events for the festival, decide what you want to enjoy, and then plan accordingly.
Depending on the festival you could spend just an afternoon browsing the fairs and enjoying the festivities, but you could also enjoy some festivals the whole day. 
For example, if you're coming into town for the Three Rivers Festival, you could go to the parade in the morning, browse the arts display at Art in the Park, including the beautiful chalk displays. Next, you could enjoy the midway, and lunch at junk food alley, and then in the afternoon evening, you could take a river excursion and dance the night away at one of the many festival concerts!
Depending on the festival, we suggest estimating more than you think just in case there is something you had not expected to enjoy!
Safety
If at any point during a festival you need help with directions, information, or need assistance there is almost always an information table or booth, volunteers, or on duty officers that are available to assist you. Festivals are planned to meet any needs or circumstances. You are in safe hands when attending Fort Wayne's Festivals.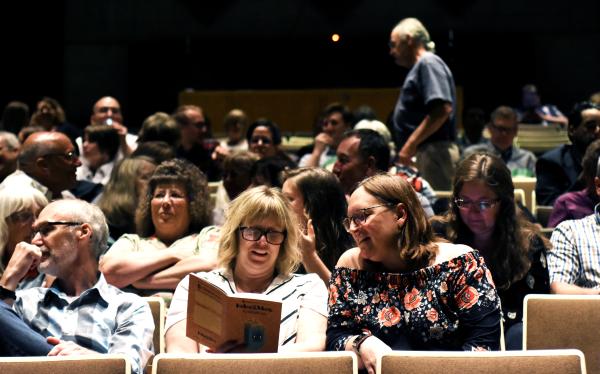 After 
Dining
Most festivals have food vendors or food trucks available for you to enjoy on-site. Heck, some festivals even focus on food specifically. However, if you'd rather skip eating at the festival there are many dining options available in Fort Wayne. From downtown dining at Hoppy Gnome, 816 Pint & Slice or Dash-In, or Coney Island, to dining at some of Fort Wayne's other greatest restaurants like Salsa Grille, Bandidos, Casa, Eddie Merlot's, there is something for everyone!

Other Things to Do
While in Fort Wayne, don't forget to enjoy some of the other great activities like our attractions - the Fort Wayne Children's Zoo is a "top ten zoo in the nation", a TinCaps Baseball game at Parkview Field, or browse the beautiful displays at the Fort Wayne Museum of Art. 
Plus, there are many other events taking place in Fort Wayne throughout the summer like our summer concert series, food tours, breweries and wineries, shopping, outdoor recreation on our rivers and over 100 miles of trails, and much more!
See you in Fort Wayne!
Is there more information you'd like to know about Fort Wayne's Festivals? Let us know!
From Germanfest to Johnny Appleseed Festival, we hope this guide helps you plan your next weekend escape to see Fort Wayne!!
See you soon!