Fort Wayne has jumped on board over the past few years with the nation's reawakening to the power and goodness of wholesome and organic foods.  We are fortunate to have farmers markets year round in our city, as well as stores like The Fresh Market, Earth Fare, and Three Rivers Natural Grocery, just to name a few. Now, we can add Fresh Thyme to the list!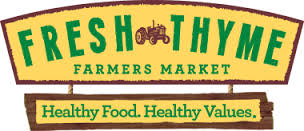 When I first entered Fresh Thyme, I was impressed by the cleanliness and the customer service.  Employees were readily available to greet me, answer my questions and recommend produce. As I browsed, I made a list of meats to purchase in the future for holiday parties. All natural turkeys were $1.37/lb, and grass fed ground beef was $2.97 for a value pack. The biggest steals, in my mind, were the skinless AND boneless chicken breasts for $1.57/lb.! I loathe skinning and deboning chicken, so Fresh Thyme is a winner, in my book!
My family enjoys fresh produce, and we stocked up on fresh blackberries, which were about 80 cents/oz. We often check out the store's ads in the newspaper and online at www.freshthyme.com to view updated specials. Another benefit to Fresh Thyme is its location. Besides visiting the store online here and on Facebook here, you can swing by the store at 4320 Coldwater Rd. anytime you're on the north side of the city.  Fresh Thyme sits on the corner of Coldwater Rd. and Coliseum Blvd., so it's an easy stop if you're going out to eat or to nearby Glenbrook Mall. Come see for yourself! Call them at (260) 222-2818. They're open 7 a.m. - 10 p.m. every day.