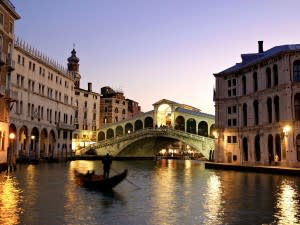 As IPFW ( Indiana University - Purdue University Fort Wayne) continues to grow by leaps and bounds, there are a number of great opportunities for the students that choose to attend the college. From a growing nursing program, to top of the line performing arts, to a growing athletics program - IPFW has everything you could expect to find at IU or Purdue, but at a little more affordable tuition price. One of the best things offered to students that attend IPFW is hands-on experience in their field of study. One such experience is the Dinner Series class offered to students in the celebrated Hospitality Management program. Dinner Series is a class where each student has to manage an entire dinner event for one night. This means that throughout a semester there are countless hours of planning by each student to make their dinner a success, while also enlisting the help of their fellow students to pull it off without a hitch. Dinner Series is also a great opportunity for these students to get first-hand experience in the hospitality field, while also making connections with professionals. If you have never attended a night put on by the Dinner Series students, or didn't even know the program was around, do not fret - there is a wonderful opportunity coming up to enjoy an evening out, and help support IPFW students! On November 20 the IPFW Dinner Series class will bring their talents to the Courtyard Marriott Downtown with the dinner event, Bella Notte. Bella Notte is being put on by IPFW student Anastasia Kohrman, and will feature gourmet Italian Cuisine with a high-quality meal in a wonderful setting. Attending this dinner will get you a delicious 5 course meal, as well as complimentary lemonade, water, tea and coffee. There will also be a cash bar if you're looking for a little something extra. The meal is as follows:
Soup: Classic Minestrone - traditional Minestrone blend with seasonal vegetables and cannelloni beans
Salad: Caprese Salad - Romaine heart served with tomatoes and fresh mozzarella with a balsamic drizzle
Entree: Crab Manicotti - Manicotti stuffed with rocotta and blue crab, then back with a bechamel sauce. (This is also available Vegetarian style, which is the Manicotti without the crab)
Vegetable: Stuffed Portobello - Portobello cap filled with artichoke hearts, roasted bell peppers, feta and fresh basil.
Dessert: Limoncello cake - Fluffy cake with marscapone and infused with Limoncello liquor.
Did I mention that you will get all of this, along with top-notch service, a great atmosphere, and entertainment for $30? This event would be fun date night, or grab your friends, or coworkers, to enjoy a little night out!
Bella Notte is on November 20 at 6:30pm at the Courtyard by Marriott Fort Wayne Downtown. There is no formal dress code, but business casual esque dress is appropriate. You can order tickets to Bella Notte here. To find out more information on Bella Notte, and future Dinner Series events check out the Dinner Series website and Facebook page. If you're interested in learning more about the IPFW Hospitality Management program, check out IPFW's website.