Update: For information on this year's event, visit our Festivals page.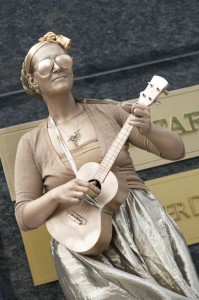 You're never too old for magic. Magic is exactly what BusketFest and its related activities are all about!The 4th Annual BuskerFest will take place just two blocks from the library at Wayne & Calhoun Streets, downtown Fort Wayne on June 29, from 4 – 10 p.m. The free festival offers unique performances, food, activities--and more! BuskerFest is a celebration of the street performer and a festival of the unexpected, no performance is too quirky! Scheduled stage performances guarantee the audience a great line-up of entertainment but the random street performers are the energy, excitement and ingenuity of the festival. The schedule is as follows:
4-4:10 River City Breakers: Spins, freezes, acrobatic moves and eye-pleasing rhythmic original choreography
4:10 Dumpster Drummers: Educational performance group making music out of trash
4:30 FW Summer Music Theatre: Songs and scenes from the upcoming play 9 to 5…the Musical
5:00 River City Breakers: Fort Wayne's breakin' crew
5:15 Jug Huffers: An old time, bluegrass, acoustic local folk band
6:00 The Circus of Learning: Juggling and more
6:30 Samuel TrueBeDOOR: Acoustic folk and soul with a distinctive beat
7:00 Beautiful Freakshow: Dancers, fire performers, acrobats, glass walkers & more
7:45 Hope Arthur Orchestra: An eclectic mix of classical piano, quirky accordion and orchestra set this act apart
8:15 Pyroscope Entertainment: Fort Wayne's first fire performance troupe create enticing illusions including a set to live music with Hope Arthur Orchestra
9:00 Wickersham Brothers: Americana JazzRock with Soulful Grooves that make you want to sing and dance like nobody's watching
9:40 Pyrotechniq: Expert fire theatrical performers from Chicago with superb choreography executing a visually stunning kinetic fire performance
Buskers are the highlight of BuskerFest. Professional buskers from T.A.G. Art and Joy Unspeakable are scheduled throughout the evening with random or unplanned performances scattered along sidewalks, in One Summit Square and on the lawn giving the audience a sampling of the originality, novelty and creativity in Fort Wayne's artist community.
Look for street drummers, human statues, chalk artists, guitarists, aerialists, fire breathers, caricature artists, magicians, jugglers, mimes, painters, musicians, balloon artists, poets and more.
The DID encourages patrons to tip buskers for their efforts. But the fun doesn't end here! Families may attend a free magic show at the downtown Allen County Public Library between 2 – 4 p.m. Magic of Fort Wayne features a meet and greet with Ronald McDonald, a magic show and a tribute to magician Dick Stoner and special performance by a local ventriloquist.
After the show, guests are invited to parade down to BuskerFest for more fun. Children must be accompanied by a parent and seating is limited so guests are encouraged to sign-up on the DID website.
All that fun can really work up an appetite.  Satisfy your hunger with food from local food trucks Jumby's Joint and Bravas. Additionally,  JK O'Donnell's will offer both food and beverages. Numerous restaurants around the Wayne and Calhoun area will also be open for BuskerFest.