What's better than the zoo during a nice day in the summer? Give up? A one-of-a-kind experience in the fall! Enter
Wild Zoo Halloween
at the Fort Wayne Children's Zoo!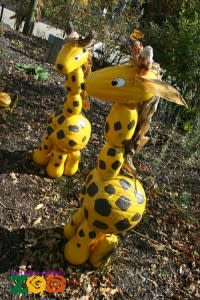 If you're looking for a low-cost and seasonal event to take your kids to, this is it.  When you visit the zoo from noon to 5 pm,  Oct. 17-19, 23-26 and 30-31, you can expect lots of entertainment.  Planned activities include: Trick or treating,  mini maze, pumpkin picking, jokes,  and a visit from Broomhilda the Witch.
Insider's Note: Guests of any age can purchase the Admission + Trick-or-Treating package, which allows collection of 10 treats and a pumpkin from the Pumpkin Patch.
Of course they'll be time to see and interact with the animals. All activities are located in the Central Zoo and portions of the Australian Adventure. The African Journey and Indonesian Rain Forest will not be open during the Wild Zoo Halloween. And be sure to mark your calendar for some special events:
October 17  Guessing Games – How much candy is in the jar?
October 18  Princess Day – Meet & greet our real Princesses 2-4 PM
October 19  Mascot Day – Meet & greet local Mascots 2-4 PM
October 23  Free Train Rides – Ride the train free  12-5 PM
October 24  Pumpkin Stomp & Chomp – Animals get pumpkins to eat and play with.
October 25  Hero Day – Meet & greet Police, Fire, and Military representatives 2-4 PM
October 26  Magic Day – Amazing Magic Shows
October 30  Free Train Rides – Ride the train free 12-5 PM
October 31  Pumpkin Decorating Workshop – Create a pumpkin masterpiece to take home
If nothing else, this is a great time to experience why the Fort Wayne Children's Zoo has been consistently rated as one of the best children's zoos in the country. If you can't make it to Wild Zoo, the zoo re-opens in April.