Spark your imagination at Fort Wayne's former City Power and Light facility...otherwise known as Science Central! Inside this colorful and lively "kids palace," you will find over 30,000 sq. feet of hands-on learning. Kids go to have fun - exploring science, technology, engineering and math, while parents grin in the delight of their childrens' exciting learning experiences!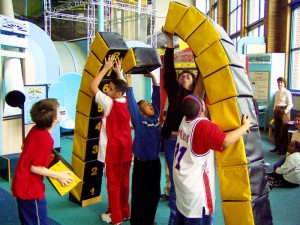 Not only are their temporary exhibits (that are ever-changing) exciting, their permanent exhibits have something new to offer every time you step foot into this magnificent wonder. You can begin your adventure at Kids Central, thoughtfully designed for the youngest of scientists (ages 2-7 with parent). Inside the specially sized doorway, you will quickly become astounded while discovering and navigating your way through over 20 hands-on areas, including Fort Discovery! Fort Discovery is a multi-level play structure, surrounded by so many eye-popping areas. One of my family's favorite areas is the life-size piano that can be played on by walking, dancing or skipping carefree across the giant-size keys across the floor! Your child will quickly become amazed when he/she creates a one-of-a-kind musical composition just by movement! After you have exhausted yourself in Fort Discovery, you will be greeted by Science Central's giant-size slide, cascading down into the depths of exploration! This slide is so exhilarating - I had to give it a try myself and let me tell you...it was INCREDIBLE! Just when I thought I had seen it all, I came out of the slide to find my 5 year old dressed as a NASA astronaut while begging me to let him "jump on the moon." Yes, they even have a "moon" surface for kids to buckle up in stirrups while discovering what zero-weight really means. After unbuckling the moon straps, and catching your breath from the winding slide...you might begin to wander around wondering if you are possibly colorblind or how on Earth you can't figure out how to untangle the metal rings and master puzzles of all kinds. Just when you think you need to give up and that there is no way possible that any human being could solve these mind-bending puzzles...your child yells "I did it! I figured out the puzzle!" Yes indeed, your kids might just amaze you in this mental wonderland! Mind's Eye Gallery will surely put your problem solving skills to test with so many optical illusions and mind-bending puzzles. Oh, and don't forget to check out the Confusion-Illusion Room where you can walk uphill and crawl through the dark "Sewer" using your sense of touch!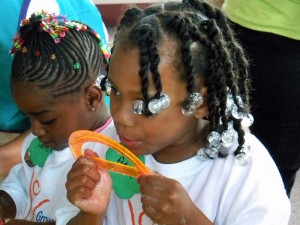 Then all of the sudden you might feel a sudden presence nearly 30 feet off the ground. Looking up, you spy the High Rail Bike where counter-balance leaves you shivering in your boots! This bike circles around a large rail high above, leaving you to feel embarrassed for feeling nervous - knowing you are perfectly safe with the large safety net directly underneath. Indeed, you might leave feeling proud and surprised that your children bravely tackled all of these adventures (while learning a thing or two about science!), and so many more. Science Central does not end here…just wait until you experience more of Investigation Gallery's story behind the extinction of the Mastodon, Prediction Gallery where you an pretend you are a real meteorologist, Observation Gallery where you can launch a real wind missile and so much more! Science Central is an indoor wonderland perfect for any cold winter day or a hot summer day as well! It's a fun hands-on learning playground for any day, any month! For hours, rates and group learning info - -check them out
online!