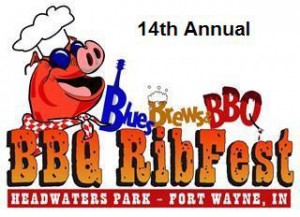 Get ready for the 14th annual BBQ RibFest, this June 16-19 at Headwaters Park in downtown Fort Wayne, IN!  The festival runs from 11:30 in the afternoon to almost 1 in the morning every day, so there of opportunities to try everything on the menu! Walking up to Headwaters Park you know you are in the right place for RibFest when you can see smoke billowing up into the sky, and smell the aroma of barbeque wafting through the air.  Now not only can you expect to taste award winning barbeque, (you might even find some Food Channel favorites!) but you can also listen to great blues bands. 
Make sure to try and sample as much barbeque your stomach can handle since there will be computerized voting for your favorite rib team!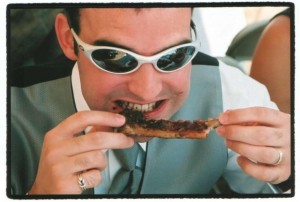 On a side note, this festival can really draw in the crowds so if you want to avoid the busiest time of the day go either before 7:30pm or after 9pm.  Admission for the BBQ RibFest is free till 5:30PM, and $6 after to enter.  For more information regarding BBQ RibFest visit www.bbqribfest.com where you can learn more about the specific blues bands and barbeque teams appearing.