The temperatures are dropping. but that doesn't mean you can't enjoy fresh produce---purchased directly from the person who grew it.  Is there anything better than knowing exactly where your food comes from? Fort Wayne's indoor markets boost produce, as well as arts and crafts, and jewelry. Here's a quick guide to both:
YLNI Winter Market
: New this year, this market continues the momentum of the summer market located at Barr Street. That market has gained popularity over the years, as a Saturday destination.  You can find the winter market in the Ash Centre, at 1701 Freeman St. This is just a few minutes west of downtown. They are open the 2nd and 4th Saturdays of Oct. 2014 - April 2015,  from 10 a.m. to 2 p.m. I checked it out with a friend recently and was pleased to see a lot of the same vendors were there. They have a good mix of food and crafts vendors. I bought some lettuce and herbs from a booth. He was very knowledgeable and reasonably priced. I appreciate the fact that most vendors accept credit cards, so you don't have to worry about having cash on hand. Parking is available in the lot.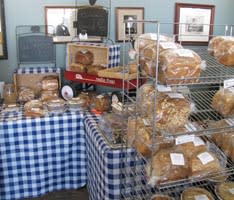 Ft. Wayne Farmer's Market:
This market has been around for a few years, and it seems to be gaining momentum.  This market is held the 1st and 3rd Saturdays, so you can check out both on off weeks. The venue, Parkview Field's multi-purpose room, is ideal for large crowds. Due to the size of the space, there is room for more vendors. I would say there is also more of a variety. You can find vendors here that aren't at the YLNI market. Often times there are food trucks set up outside, so you can grab a bite before or after your visit. You can park in the attached garage or in a nearby lot. So, grab your reusable bag and head over to one of our markets. It feels great to support local farmers and artisans. Tell them we sent you!