Your Fort Wayne experience doesn't have to end when you leave town. Several local businesses have online ordering, so you can take a little bit of the flavor with you!Here are a few to start:
DeBrands Fine Chocolates:  Their safe and secure website offers an easy and efficient online shopping experience.  Whether you're sending gifts, or treating yourself to some of the world's best chocolates, it's like having your own chocolate shop right inside your home. The best part is you can take advantage of their flat rate shipping - only $9.95 per recipient on all retail orders under $1,000 in the continental USA. Delivery is within 1-2 business days from ship date.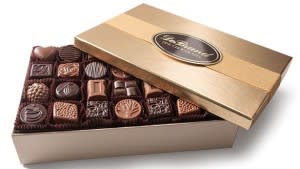 Phil's Hobby Shop:  From arts & crafts, to trains, there is something for everyone hobbyist. In addition to their two Fort Wayne locations, Phil's offers e-commerce. Customers can take advantage of free shipping for all order over $100.
Vera Bradley: Vera Bradley is known for its bags with charming patterns to suit all tastes.   These popular and colorful products seem to pop up everywhere you look — on college campuses, in airports, walking down the street.
OFabz: OFabz has made a name for itself with gorgeous swimsuit designed for the functional needs of active guys and gals. The styles vary, but are totally retro. Fine one that speaks to you via their online store!
TinCaps: Show your support for Fort Wayne's home team through purchasing some apparel from the TinCaps team store. From T-shirts, to caps, to jerseys, they have it all!
Visit Fort Wayne - The ultimate place for Fort Wayne souvenirs - you can find t-shirts, mugs, books and more! What are some other Fort Wayne favorites that you love?