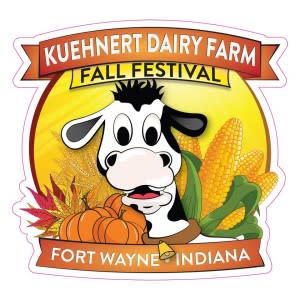 One of the best things about fall in Indiana is the multitude of fall festivals that come with the changing of the leaves. One of the newest festivals in the area is the Kuehnert Dairy Fall Festival at the Kuehnert Dairy Farm.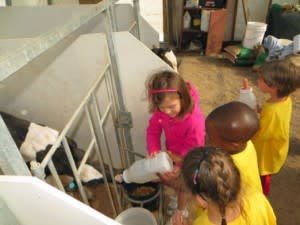 The Kuehnert Dairy Farm is a 6th generation Dairy farm off of Cook road in Fort Wayne. The dairy farm is ran by the family management team of the Kuehnert Family, as well as a group of dedicated employees. The family opened the Kuehnert Dairy Farm to share their passion for their farm, family and the cows that raise. They do this by showing what life is like as a dairy farmer, how their cows are cared for and how they take care of the land. They are also extremely dedicated to educating visitors and consumers on the importance of the farm system and milk to a healthy diet.
In continuing with the spirit of sharing their farm with the public, Kuehnert Dairy Farm began the Kuehnert Dairy Fall Festival, with the 1st annual festival this year! The festival kicked off on September 28th and will continue until October 27th. There are a variety of activities to get involved in that will make for a fun time for visitors of all ages! All of the regular farm activities will be available with the festival admission including: visiting the freestall barn, learning how baby . calves are cared for, and viewing modern farm machinery. Some of the great activities exclusive to the festival are: a 5-acre corn maze, straw mountain, cornhole games, Holy Cow football, hayrides, pumpkin painting and fire pits. There will also be face painting and live entertainment every weekend. After all of oyur fun on the farm, relax and enjoy yummy treats such as soft-serve ice cream, grilled cheese sandwiches, hotdogs and s'mores while sitting around a bonfire.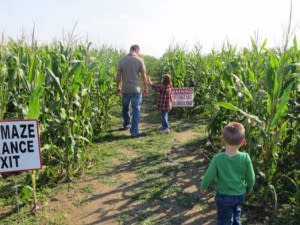 The Kuehnert Dairy Fall Festival is open each weekend - Friday through Sunday. Friday hours are 6pm-10pm, Saturday hours are 10am-10pm, and Sunday hours are noon-5pm. General admission is $8 per person, and children 3 and under are FREE! The Kuehnert Dairy Farm is located at 6532 Cook Road. For more information on the Kuehnert Dairy Fall Festival, and the Kuehnert Dairy Farm, you can check out their Facebook page or Visit Fort Wayne.