I love Art in the Park so writing about it (and keeping it brief) is both a highlight and a challenge for me. As part of the Three Rivers Festival, Art in the Park boasts over 40 vendors and more than 30,000 visitors.  Many consider it a cornerstone of the kick off weekend of the eight-day Three Rivers Festival. 
Personally, I see it as an opportunity to find something fabulous I wouldn't find anywhere else.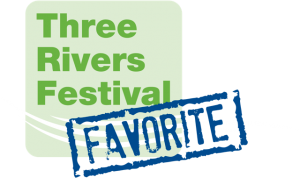 With vendors selling a large variety of art at the festival you're sure to find something that fits your personal style.  Last year, I found the perfect glass and driftwood wind chime for our garden.  Each time I hear it in the breeze I think of the great day we had at last year's festival enjoying park.   Not in the market for wind chimes?  Past vendors have sold photography, painted glass, hand made soaps, yard art, jewelry, rugs, kitchenware, clothing, and sculptures. 
This year's vendor list hasn't been announced yet but promises to have even more great artisans for visitors to enjoy. That's what makes shopping for art so much fun.  The digging, the exploring, and the shopping all makes it a great day.  Of course, shopping in the beautiful Friemann Square Park makes for an enjoyable day as well.  With the warm summer air and the beautiful setting you're destine to have a great day. Set in front of the Arts United Center, Fort Wayne Museum of Art, and next to the annual Chalk Walk event there's plenty to do in those few blocks.  If it's an unusually hot July day, pop into the Museum of Art to relax.  Be sure to explore Chalk Walk as locals create works of art on the pavement out of chalk.
Art in the Park will take place Saturday July 13 from 11 a.m. – 6 p.m. and Sunday July 14 from 11 a.m. – 5 p.m.   The show is free to attend.  Street parking can be found throughout downtown and is free on the weekends.