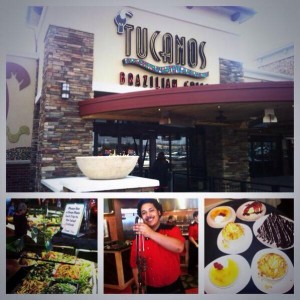 If you've never tried Brazilian cuisine, run, don't walk, to Tucanos Brazilian Grill!
Located at Jefferson Pointe, Tucanos is the first of its kind for the Fort Wayne area. With its festive decor, friendly staff and INCREDIBLE food, you'll be planning your second trip before your meal is even finished. If you are a Tucanos newbie (like I was before the trip that inspired this post) prepare to be filled to the brim with delicious salad, pastas, breads, dessert, and of course, meat.
My group started off by ordering the Brazilian Lemonade and Fresh Fruit Juices. I had the passion fruit and it was seriously so good. You can add the alcohol of your choice to these for an extra charge, and I would suggest it if you're looking for a fruity drink! We also ordered the Taste of Brazil appetizer that is shredded chicken and spices inside of a fried batter. That too was great, and many of the other appetizers we mulled over sounded mouth watering as well!
When you dine at Tucanos you dine Churrasco style. What is Churrasco you may ask? This means you receive fresh meats and vegetables grilled to perfection and brought directly to your table by Tucanos' meat servers. You are given a round stick where one side is green and the other is red. If the green side remains up, meat servers will continue to bring you delicious meats to your hearts content. Or, if you prefer to pace yourself you can turn it to the red side where there will be a pause in the delivery of said meats. During my meal we were brought steak, pork, turkey, fish, and chicken all in various forms. Some were wrapped in bacon, others were covered in sweet and savory sauces, and some just spoke from themselves. We also had grilled vegetables and pineapple marinated in a brown sugar sauce - YUMMY!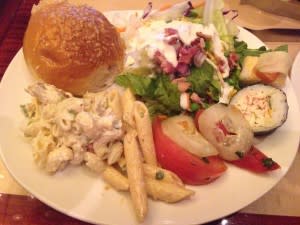 Your Churrasco dining also includes Tucanos huge salad bar. This is definitely not your run-of-the-mill salad bar either, in fact it is called a Salad Festival! And, I must say, it definitely lived up to the name! One side is filled with ingredients to create your own salad creation. There was standard salad bar fare, but the assortment was huge! There's also other things you may not have considered mixing with your greens like roasted corn salsa, quail eggs, hearts of palm and more! The other side has an assortment of pasta salads, cold meats, seafood salads, and other cold items mixing traditional with Brazilian. But you are not done yet! Across the back of the Salad Festival are hot items to add to your plate. You'll find pasta with a variety of sauces, rice, potatoes and freshly made soups. The Salad Festival could truly be a meal on its own, so small portions are encouraged!
Following your meal a tray of pre-made desserts are brought out for you to choose from and there is truly something for everyone. You'll find Créme Brûlée, cheesecake, brownies, ice cream, and a chocolate cake so rich and big that they bring the to go box with it. You order and then a fresh dessert is made and brought back for you. I had the Truly A'MAZON Fudge Brownie topped with vanilla ice cream and was in heaven!
After the meal I was so full I wasn't sure I could walk out of the restaurant under my own power and seriously considered not eating ever again. When I got home I told my husband that we HAD to go again sometime soon (he didn't get to partake in this outing, much to his dismay).
Tucanos is located at 4130 W Jefferson Blvd Suite I-15 in the Jefferson Pointe Shopping Center. The Tucanos Churrasco meal includes assorted breads, fried bananas, unlimited Salad Festival, and the full Churrasco selections and is $15.95 for lunch and $22.95 at dinner for adults, $6.95 and $8.95 for children 7-12 (kids 6 and under eat free with a paying adult!). Their hours are 11am-10pm Monday through Thursday, and 11am-11pm Friday through Saturday. Tucanos is closed on Sunday.