Many Fort Wayne area churches make the wonders of Christmas come to life. It's always good to step back from the hectic holiday rush and experience delightful and relaxing holiday festivities churches have to offer. Two churches take two different methods to capture the Christmas story, but both have you leaving with the true essence of Christmas. Over a two weekend period,
The Chapel
uses their extremely talented group of instrumentals and singers to tell the story of Jesus through music and live animation. Keeping to the origins of Bethlehem, the stage is made to look like a Nazareth village. True to life, Mary and Joseph tell their very personal story through song with the help of the angel Gabriel. It is a creative and touching way to tell the story of the birth of Jesus. The story is enhanced with the live sheep and a camel led by the Three Wise Men. The services conclude with a touching message relevant for us today.  The well put-together production starts the weekend of December 8
th
  and 9
th
at their  6:00 p.m. Saturday service or their 8:30 a.m., 9:45 a.m., and 11:00 a.m. Sunday services. It concludes the weekend of the 15
th
and 16
th
, same time.  The Chapel is located at 2505 W Hamilton Rd, Fort Wayne, IN.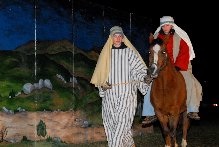 Another way to observe and appreciate the Christmas story is to drive through a living Nativity scene.
Central Church
uses over 400 volunteers and months of planning to assemble different stages of the Christmas story surrounding the outside of the church. A sign at the entrance will tell you what to turn your radio dial to for a narration of the Christmas story while taking in the elaborate illustrations.  In the beginning of your excursion you will be gazing upon the sites of people hustling around trying to find the best gift while missing the true meaning of Christmas.  As you proceed in the warmth of your car, the first celebration of Christmas unfolds with live llamas, camels, sheep and towns people dressed in apparel depicting the days of Jesus.  As you continue doors to a giant gift box open up to unwrap the true gift of Christmas, Jesus. Get to the church early for you trip on either December 7
th
or 8
th
from 6:30 p.m. to 9:30 p.m.  Last car in should arrive by 9:15.  Central Church is located at 5801 Schwartz Rd, Fort Wayne, IN.  Just off I-469, exit 25, SR 37 North.