Every once in a while, ladies need a Girl's Night Out. We get it! Here are a few great Fort Wayne Girls Night (or Day) Out ideas for you to try.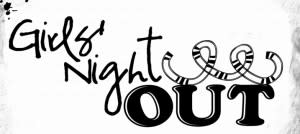 Outdoor Adventure! Wanting to ditch the typical spa and shopping day for something a little healthier?  Hit the Fort Wayne Trails and take in the scenery while catching up on the latest girlfriend gossip.  As the weather gets warmer, rent a canoe and enjoy the rivers Fort Wayne is famous for.  Finish up the day with a bite to eat and a cool beverage on the Deck at Don Hall's Gashouse on the river.
50 Shades of Theatre? Were you one of the 70 million readers who read 50 Shades of Grey?  If so, you'll want to check out Spank! The Fifty Shades Parody on June 11 at The Embassy Theatre in downtown Fort Wayne. (You can even win tickets!) The producers promise a "naughty and hilarious" night out and they guarantee you'll be laughing out loud.  Stop by the Oyster Bar on Calhoun Street for dinner and martinis at Club Soda on Superior after the show.
Spa time! There's nothing like relaxing and enjoying a little pampering with your BFFs.  Set appointments at Woodhouse Day Spa to experience a day of pampering.  Enjoy hot stone massages, facials, pedicures, and much more.  Call their Spa Concierge to schedule your visit today.
Wine! "The Chop's Pour" in what locals know to be one of the best glasses of wine you'll find in Fort Wayne. Known for its large glass of wine and their exceptional selection, Chops Wine Bar will give you that big city feel without having to leave town.  Enjoy their smaller portion menu in the bar or make reservations for dinner at Chop's Restaurant next door.  You're assured to have a good time.
Shopping! With two large malls and lots of independent local stores in Fort Wayne, you're sure to enjoy a great day of shopping with your girlfriends.  Whether you're enjoying the outdoor shopping experience at Jefferson Pointe Mall or the comfortable indoors of the stores at Glenbrook Mall you're sure come across those must have items.  Want  to shop local?  Spend a day exploring local stores including Creative Women of the World on Wayne St, Hyde Brothers Bookstore on Wells, or Jophiel, and the Olive Twist both located in Covington Plaza on Jefferson Blvd.
Desserts! We love our sweets in Fort Wayne.  Why not plan a girls night out sampling some of the best sweets in town? After all, nothing goes with girl talk like a little chocolate.  Consider indulging in DeBrand's chocolate at one of their beautiful stores.  Locals love the sundaes in chocolate cups made right there at DeBrands.  Stop by Richards Bakery or Yummee's for some delicious cupcakes too.   Looking for something a little less sinful?  Check out the gluten free baked goodies at Pembroke Bakery. Have a great time - and let us know of any other treats that you and your girlfriends enjoy!