Being a Fort Wayne native, I know that I don't pay as much attention as I should to the ever-changing streets and buildings that I drive past every day. It is easy to take for granted how clean and well-maintained our city is. I rarely take time to stop and appreciate all the artwork and detail that our downtown buildings have (and, have always had).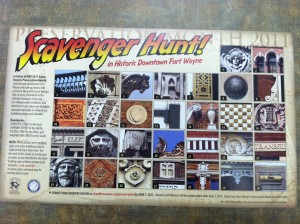 The month of May is Historic Preservation Month and the city of Fort Wayne, Indiana has put together an architectural scavenger hunt to celebrate! It's a great excuse to slow down, enjoy life, and really notice all the architectural designs that make our buildings unique.  It's a great way to get the family involved and enjoy quality time with each other.  And did I mention that it's free entertainment?
You can pick up the form at the Visit Fort Wayne Visitors Center, or go online to www.CityofFortWayne.org/preservation. My children and I had so much fun walking around downtown, and not just looking for these "hidden" designs, but enjoying all the aspects of downtown; the beautiful flowers that line Calhoun Street, the laughter coming out of Coney Island as people enjoy their lunch with friends, and watching a young couple holding hands at the outside tables at Dash-In. And, since you'll be downtown during Historic Preservation Month, what a great time to stop and check out the Allen County Courthouse, which is a National Historic Landmark.  You can walk around and enjoy the detail and design Monday-Friday from 8 am-4 pm. Hope you all get a chance to stop and smell the roses (and enjoy the architecture!) this month!