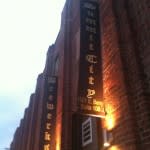 If you're anything like me, you enjoy old things re-invented as something new. Such is the case for Fort Wayne's newest brew pub, Summit City Brewerks. As for the nostalgic aspect, the pub is located inside what was originally the American Fork and Hoe Company then later and more well known as the Wayne Candies building who were famous for making Bunn candy bars. In fact the large Bunn candy billboard can still be seen on the East end of the building.  The building is located at the corner of East Berry St. and Anthony Blvd., just 2 blocks north of Indiana Tech.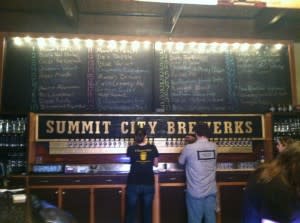 Once inside, you'll immediately feel the old-meets-new vibe. For example, the pub area has been stripped down to its 100-year original surfaces. The brick, block, large timber beams and columns have been exposed to create a unique environment.  The bar itself is particularly unique. made of marble(or faux) and particularly wide. There is plenty of elbow room. Even though there were several other people at the bar, I never felt uncomfortable. The noise level was also a selling point, as it was easy to have a conversation with my room at a normal volume. In noisy bars sometimes it's hard to get a word in.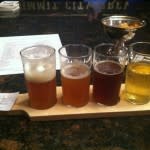 There is also a good amount of table and booth seating. The furniture reminded of something from Ikea--very hip and sleek. There is also a pool table, which adds to the ambiance. I'd say this place is on the cusp of being a college bar, without the rowdiness. We were there from around 7 pm to 8:30, so we might have beat the late night crowd. I would say the majority of people there were in their 30s and 40s, enjoying an after-work drink or two. Speaking of drinks, Summit City Brewerks offers about 40 varieties on top, including up to 30 different small batch craft beers on tap all made on site. You can also enjoy wine, mead, and cider. I ordered a flight, which included four smaller samples of beer. I recommend this approach, as it's a great way to taste more than one beer on a budget.  And what goes better with beer than pizza? When I was there a food truck serving pizza was available outside the bar. They let you bring it inside, so you can enjoy it with your meal. In short, Summit City Brewerks has the potential to Fort Wayne's favorite hangout spot. Stop by for a pint..or two!