One of the best things about my job is finding out what performers are coming to Fort Wayne for the Foellinger Theatre concert series each summer. We're calling it a "Summer to Remember" and it certainly will be! I'm pretty sure I reserved the first seat for the Davy Jones concert. I was so excited about meeting my favorite Monkee, and then so devastated to hear of his passing on February 29. In my marketing research, I had learned quite a bit about Davy and his life after The Monkees and it was comforting to know that he'd not only continued his singing and acting career, he continued to ride and train racehorses, which was his first love.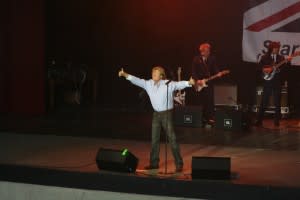 We were all still reeling from the shock of losing Davy Jones, not even wanting to think about searching for a replacement for his June 9th performance date, when one of our favorite 1960's pop icons—Peter Noone—volunteered to take the place of his long-time friend. Peter Noone, from Herman's Hermits, performed with Davy often over the last several years. He was even one of the few people who got away with teasing Davy about his singing during concerts—in a purely good natured way. But what I didn't know was that Peter introduced The Monkees to The Beatles in 1967, and Peter and Davy were both born in Manchester, England. Herman's Hermits Starring Peter Noone performed at Foellinger Theatre last year and the concert was amazing! The positive feedback from regular customers, as well as new customers, was outstanding. I can hardly wait for this year's performance at 8 pm on June 9. That's not all the excitement going on this year. A Summer to Remember opens on May 18 with "An Evening with Huey Lewis and the News"! These Grammy Award winners have written and performed such classic Top Ten Hits as "Heart of Rock & Roll," "Stuck With You," "I Want A New Drug," "If This Is It," "Hip To Be Square" and "Workin' For A Livin'". The group also wrote and performed "The Power of Love" and "Back in Time" for the hit film Back to the Future. "The Power of Love," which was nominated for an Academy Award, went all the way to #1 on Billboard's singles chart. And we're just getting started! Starship, Featuring Mickey Thomas will perform July 14. Mickey made his mark in 1976 as lead vocalist on the mega-hit "Fooled Around and Fell in Love" with The Elvin Bishop Band, then joined Jefferson Starship in the late '70's. Backed by the power of Mickey's vocals, Jefferson Starship immediately scored a #1 hit with "Jane". With this new sound and powerful new vocals, the group was renamed Starship and continued to record an amazing string of hits including "No Way Out," "We Built this City," "Sara," and received an Oscar nomination for the #1 hit "Nothing Gonna Stop Us Now" from the movie Mannequin.
The Guess Who, a huge hit in 2010, returns on September 8. A world-famous Canadian Rock band from the 70's, The Guess Who recorded hits such as  "American Woman," "These Eyes," "Clap for the Wolfman," "Laughing" and "No Sugar Tonight." The Diamonds will make an appearance on September 22. Over thirty years ago, they released their instant hit "Little Darlin'" and it has sold approximately 20 million copies. They're also known for their memorable hits "Church Bells May Ring" and "Why Do Fools Fall in Love". Along with local favorites, several tribute bands will energize the stage this summer: Divapalooza, performing Aretha Franklin, Janis Joplin and Bette Midler tunes; Brit Beat, a Beatles tribute band from Chicago; Midnight Special, a journey back to the '70's and '80's featuring the music of Queen, Boston, Journey, Styx, Led Zeppelin and Foreigner; and Hotel California returns by popular demand to perform Eagles tunes. Don't wait too long to get your tickets. You can conveniently purchase them online at www.fortwayneparks.org or by calling 260-427-6000. Or just visit our website to learn more about the concerts we're offering and to read the great testimonials from customers who have enjoyed their Foellinger concert experience. I have a feeling you're never going to forget this summer. I know I won't!