The
Festival of Trees
is returning to Fort Wayne this year and will be here for a total of seven days -- November 21 through November 28, 2012.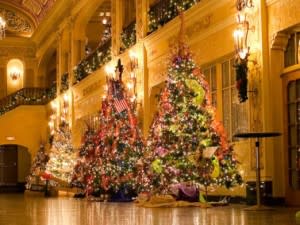 The Festival of Trees is held at the Embassy Theatre and Indiana Hotel -- the lobbies of each will be filled with 55 beautifully decorated designer Christmas trees that you will not want to miss out on seeing. The festival was originally founded in 1984 and is a fundraising and community goodwill event that supports ongoing operational and restoration efforts for the Embassy Theatre Foundation, Inc. This year, there will be multiple events going on during the festival. They are as follows:
Night of Lights: November 21, 2012 from 6-9PM
Festival of Trees: November 22, 2012 from 4-8PM
Festival of Trees: November 23-25, 2012 from 12-8PM
Breakfast with Santa: November 23 and 24, 2012 from 9:30-11AM
Kingston Healthcare Senior Day: November 26, 2012 from 9AM-1PM
Festival of Trees: November 27, 2012 from 9AM-1PM
Kids Day at Festival of Trees: November 28, 2012 from 9AM-1PM
Tickets for the
Festival of Trees
cost $7.00 for each adult and $3.00 for each child under 12. You can purchase tickets at the Embassy box office, all Ticketmaster locations, Ticketmaster.com and all MidWest America FCU locations. Breakfast with Santa tickets cost $12.50 and are on sale at the Embassy box office -- you can also call 250-424-5665. Breakfast with Santa Tickets: $12.50. On sale now at the Embassy box office or by calling 250.424.5665. The Embassy Theatre is located at 125 W. Jefferson Blvd in Fort Wayne. Come join us for this wonderful holiday tradition and be mesmerized by the wonderland of decorated Christmas trees with your family! See you there, and don't forget your camera!