While
Eddie Merlot's
has been a staple in the Fort Wayne culinary scene for nearly a decade, it never hit our radar until recently, and now my husband and I can't get enough. The staff at Eddie Merlot's knows how to pamper guests and make any evening spent with them one you'll remember. It offers a casual option, too. The Lounge is a great place to grab a drink and a snack with friends. Eddie Merlot's really has something for everyone. We've been dozens of times this year, and we particularly enjoy the Lounge Menu, which features some delectable burgers and small plate items. We've sampled many of the dishes on their main menu and lounge menu. Here are some of my favorites:
The Lounge
The Burgers:
While the menu does offer a build-your-own-burger option, we usually select one of the pre-assembled choices. The menu rotates often, but I highly recommend any of the burgers offered. My favorite is the Eddie's Strip Burger, served with shaved prime New York strip, grilled onions, Peppadew peppers, and Gruyere. The tangy Peppadew peppers combined with the salty grilled onions really take this burger to the next level. Add the Parmesan Truffle Fries and this meal is about as perfect as it gets.
Appetizers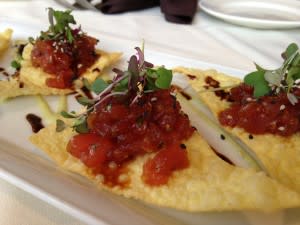 Ahi Tuna Wonton Appetizer:
These are made with ahi tuna, avocado, sesame oil and wasabi, and they are delicious. I am a tuna fan and tend to order it if it is on the menu when we go out to eat. Eddie Merlot's has the best Ahi Tuna appetizer in town, hands down. Just like everything else on the menu, these are prepared from scratch. You can really taste the care that Chef Nolot puts into his dishes, especially this one.
Beef Carpaccio:
This dish features raw filet mignon slices served with capers, truffle aioli, balsamic glaze, watercress, and olive oil. It's truly a one-of-a-kind experience. The high-quality meat is so tender and it is complemented well by the capers. I was a little leery to try raw filet mignon, but this dish sold me. It's so, so good.
Salad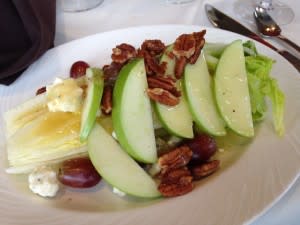 Romaine Waldorf:
I have never seen a salad like this on any other menu. It's made with Granny Smith apples, red grapes, gorgonzola cheese, candied pecans, and maple apple vinaigrette, served a top greens. My mouth is watering just thinking about it. The presentation of this salad is outstanding – three romaine bunches, arranged on the plate and topped with the fruit and nuts. The maple apple cider vinaigrette was the perfect combination of sweet and tangy, allowing for an enjoyable experience without too much lip puckering, which happens often when restaurants use too much vinegar in its dressing.
The Main Course
New Orleans Mixed Grill:
This dish contains Filet Mignon, grilled shrimp, Andouille sausage, and roasted garlic mashed potatoes. We requested our Filet be prepared Pittsburgh—heated to a very high temperature quickly, so it is charred on the outside but still rare or raw on the inside. We don't trust most restaurants with this temperature, but Eddie's nailed it. The intense char flavor on the outside, combined with the tender raw meat on the inside is delectable. Throw in several large shrimp and a couple Andouille sausages with the cajun-inspired flavors and this dish is a definite winner in our book.
Elk (seasonal):
While it is not currently available on the menu, it needs to be included on my list of favorite dishes. I was hesitant to try it, but Chef Nolot explained that the meat has little fat in it, creating a denser, meatier flavor. He recommended that we order it medium rare. He was right and I loved it. Served atop truffled mashed potatoes and mushrooms, the Elk provided a mild, but pleasing culinary experience.
Cedar-Plank Salmon:
I never order salmon at a restaurant. It tends to be overcooked and dry, but I took a chance on this dish and was not disappointed. The salmon has a BBQ glaze and is served with sautéed spinach and fingerling potatoes. It was prepared just right, with tons of flavor. The cedar plank lends a nice woody and smoky flavor to the dish and the BBQ sauce is light and tangy.
Sides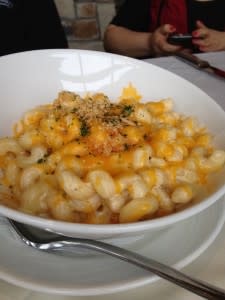 Mac 'n Cheese:
You'll think you've died and gone to heaven. This is absolutely the best mac 'n cheese I've ever had. Rich, smoky and creamy, this dish is a definite must-have if you visit.
Brussels Sprouts:
I am generally a big fan of Brussels Sprouts but these are better than any I've ever had. Served with onions and diced bacon, they are the perfect texture and didn't have a trace of bitterness to them.
Dessert
Carrot Cake:
I'd like to consider myself a carrot cake connoisseur. I order it whenever it's featured on a menu. Eddie Merlot's carrot cake rises to the top. It includes four layers of carrots, walnuts, pineapple, and spices and finished with a cream cheese icing and a touch of caramel. It's not too sweet and contains just the right balance of ingredients. I do not like cake with too much frosting and this thin layer finished the dish well.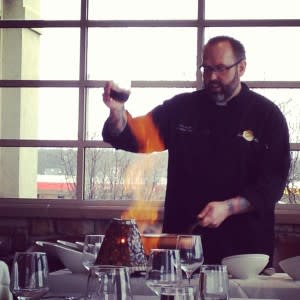 Vanilla Cognac Brownie:
A huge brownie topped with ice cream, raspberries and candied pecans. This dessert is prepared table side and includes an impressive fire show. This is the kind of dessert that could make you pass out because it's so good. The brownie is extremely gooey (the secret ingredient is mayonnaise, which sounds gross, but totally takes brownie to a new level), and is drowning in hot fudge. If you visit, make sure you save room. It's worth it. To see a more extensive menu, and to learn more about Eddie Merlot's, visit their
website
.