One of downtown Fort Wayne's most popular dining spots, The Dash-In, has recently become one of my favorite hotspots, too, for several reasons.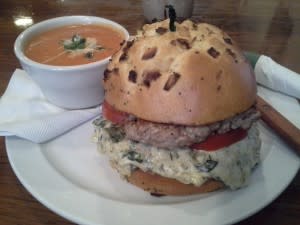 Contrary to its name, The Dash-In is very persuasive in getting customers to stay for awhile.  Its eclectic interior features both old-building fixtures and contemporary, local artwork on the walls.  This blend of old and new is my personal flair, but there are more reasons than just the décor that keep me returning to The Dash-In. The food, first of all, is amazingly savory!  The sandwiches I've had taste fresh and don't leave a greasy feeling in my mouth, which tends to happen elsewhere.    
One of my personal favorites, so far, is the Duck Melt, which I ordered with a bowl of Tomato Bisque.  Everything about the sandwich and soup was delicious and filling, and I will probably order it again. The menu is fairly extensive for lunch, dinner and drinks.  The website here explains the drink and meal choices and provides more photos of the interior.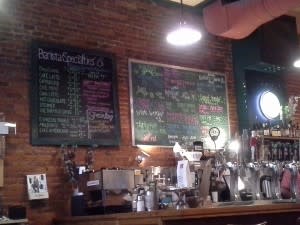 If you ever need a jolt to wake you up, I highly recommend the Espresso Malt. As per the restaurant's funky personality, it's served in a glass Bell jar - another fun touch.
I really appreciate the long tables and Wi-fi so that I can bring work with me as I eat.  The staff is very friendly, too, which is a major factor in the restaurant's returning clientele. No matter if you're dining for the first time or stopping by on your regular routine, you're always welcome at The Dash-In!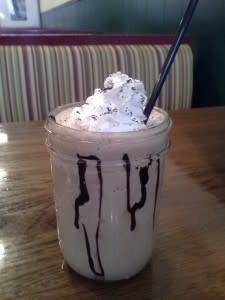 The Dash-In is located at 814 S. Calhoun St., downtown.  You can also find it on Facebook here and on its website here, and you give them a call at 260-423-3595.
Hours:
Monday – Thursday, 7:00 a.m. – 11:00 p.m.
Friday, 7:00 a.m. – 1:00 a.m.
Saturday, 9:00 a.m. – 1:00 a.m.
Closed Sunday