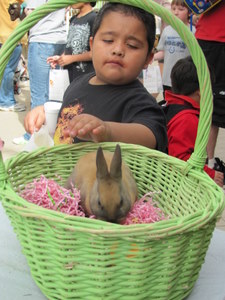 Looking for a way to celebrate Easter a little early? Hop on down to the Botanical Conservatory with your children to meet the Easter Bunny during Easter in the Garden.
This event takes place on Friday, April 6th from 10 am - 3 pm and includes playing games for prizes, making crafts, potting a plant, and light refreshments.
From 10:30 a.m-2:30 p.m. you can look for Easter eggs in the annual Easter Egg Hunt (for toddlers through elementary school ages). You can also enter into a drawing for a chance to win a "sweet" Easter basket. In addition to the fun listed above, enjoy the Down on the Fisher-Price Farm exhibit which only runs through April 8th (so it's like a 2-for-1 with your admission price!)
Want to turn it into a day trip to Fort Wayne? (This is a perfect way to finish out Spring Break.) Head over the
Science Central
for some late afternoon fun, enjoy
dinner
and then top it off with a
TinCaps
baseball game.