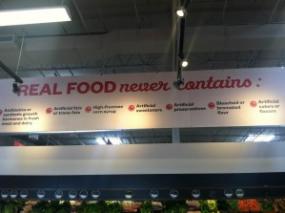 Fort Wayne is in the midst of a food revolution in a way, and that's a good thing! Several organic and specialty health food stores have announced plans to come to Fort Wayne. Earth Fare is the first of these newly announced stores to come on the scene. Located on the northwest side of town, it's a bit of drive for me, but I assure you it was well worth it. Not too many stores can honestly say they carry no products containing high fructose corn syrup, trans fats, artificial colors and sweeteners, and synthetic growth hormones in fresh meat and dairy. While I didn't purchase any produce or other goods,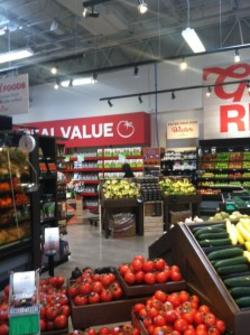 I did check out the cafe area. It was truly sensory overload. The salad bar had several types of greens and every vegetable, topping and salad dressing you could imagine. They also offer a hot bar, where you can choose from such entrees as salmon and hormone-free chicken. There also is a nice selection of ready-to-eat lunch options--ideal for people in a hurry. I picked up some sushi and a generous portion of salad. My boyfriend enjoyed a chicken feature along with some greens from the salad bar. The best part was the price: $6.99 per pound. That means you can get a healthy lunch for less than you would at a fast-food restaurant. Now that's a bargain! While waiting in line to pay, their juice/smoothie bar caught my eye.  Everyone seems to be juicing these days, so it makes sense Earth Fare has jumped on the bandwagon, with such concoctions as wheat-grass and ginger. After lunch we browsed the store.
This really is a full-service grocery. You can get everything from grass-fed beef to organic cereal.  They even have a wellness section where you can buy natural beauty products. The employees seemed happy and friendly. I feel like this store will become a bit of a neighborhood gathering place. In short, Earth Fare is worth the trip. Just don't go on an empty stomach!