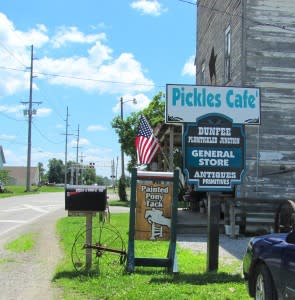 Welcome to Dunfee Plumtickled Junction, a treasure trove of things past.  This general store edifice also houses Pickles Café and a new upscale boutique to open in September that will feature, "one-of-a-kind Western décor and cowgirl frills that never go out of style," according to Roxie Schuster, proprietor.  (Painted Pony Tack was formerly in the space where the boutique will be).
Two Sisters' Garden Shop is outside the main building, surrounded by sweetly-smiling plants and flowers.
The first site of the business was in Schuster's barn – Plumtickled Barn – which moved to its current location in 2006.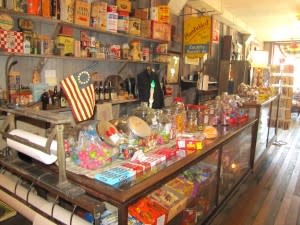 "My husband Dave and I found this old building and decided to see if we could purchase it and restore it for future generations," said Schuster, adding that the inside of the general store looks very much like the old-time stores used to.
And wow – look at what all graces the old-time store:  primitives, antiques, unique handmade items, custom signs, Prairie pork, Amish homemade noodles and butter, Wisconsin cheese curds, quilts, toys, and furniture are just a few of the fun items offered. They also feature fresh honey and spun honey. We saved the best for last:  here's where you can find your old-fashioned penny candy, gum and lots of memories – Skye bars, wax liquid-filled bottles, Teaberry, Clove and Blackjack gum, peanut butter logs, the black-pink-and-white licorice caramels (sometimes called Black Jack), candy sticks, Maple buns, lemon drops, Necco discs, circus peanuts, gumballs, root beer barrels – and you'll just have to come in and see what other treats from your childhood are in residence at the general store candy counter!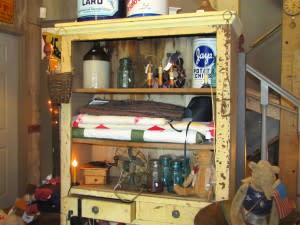 Asked what has kept visitors coming to the store since opening day, Schuster said it was the customer service.

"I love meeting new people and making them feel welcome and at home in our business," said Schuster.  "My motto is 'Kindness never fails.'"

Outside the business Schuster, a Larwill resident, tends to the family farm of horses and steers – she and her daughter and granddaughter occasionally compete in horse shows or roping events in the region.

Visitors to the shop in autumn will be delighted to learn that old-fashioned caramel apples and caramels will be offered, and in winter, Schuster brings in her old-fashioned sleigh and a real Santa Claus for photos with the kids. 

Singer Kris Kristofferson once said, "I'd trade all my tomorrows for one single yesterday," and thanks to Schuster's creative artistry in the old general store, customers can re-visit their yesterdays without having to forsake their tomorrows. The Dunfee Plumtickled Junction is located at 5310 S 800 E 92, between US 30 &  State Road 14 in Fort Wayne, Indiana 46818. Their hours are 10-5 Tuesday-Saturday.