Synopsis: During the 1960's, a trio of young female singers from Chicago -- "The Dreams" -- break onto the music scene with a series of hits. Believing success is the epitome of their dreams, they discover along the way that success comes with its own price tag.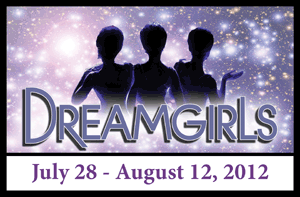 If you're old enough to remember the story line behind some female musical groups from the 1960s such as The Supremes and The Shirelles (and you'll admit you're old enough!), you may also know composer Henry Krieger and lyricist Tom Eyenwrote a Broadway musical to reflect these groups. Dreamgirls the musical will be performed at the Civic Theatre on July 28-August 12. See below for show times and dates. Dianne Shaw will guest direct Dreamgirls. Dreamgirls opened on December 20, 1981, at the Imperial Theatre. Nominated for 13 Tony Awards, it won 6 -- Book, Choreography, Lighting Design, Actor, Actress and Featured Actor. In 2006 Dreamgirls was adapted into a motion picture from Paramount Pictures. Talk about a star-studded cast! Jamie Foxx, Beyonce Knowles, Eddie Murphy, and Danny Glover had lead roles. Newcomer Jennifer Hudson's lead role as Effie meant her voice and name would never again be unknown. Dreamgirls features tunes ranging from Rock & Roll to Motown and Disco. This is a terrific opportunity to hear a variety of old school musical styles in a cool, comfortable setting. Tickets are available through the Arts United box office at 260.424.5220 or the Civic Theatre's website:
http://www.fwcivic.org
.
Note: Dreamgirls has mild adult language and mild sexual situations.
Saturday, July 28  8:00 PM Sunday, July 29    2:00 PM
---
Friday, August 3  8:00 PM Saturday, August 4  8:00 PM Sunday, August 5  2:00 PM
---
Friday, August 10  8:00 PM Saturday, August 11  8:00 PM Sunday, August 12  2:00 PM