Update: Check out our maps page for the latest Downtown Parking map.
Parking options in downtown Fort Wayne can be elusive, even for residents.Those visiting the city likely find it equally as perplexing. The good news is it's not that complicated. The city offers several lots, garages, and metered parking, which makes it convenient for guests. This handy parking map provides a list of convenient parking facilities, and their pricing.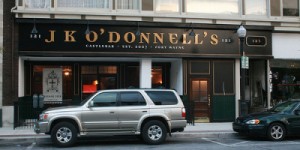 You might be curious about the best parking for your destination. We've made it easy for you!
Embassy: For evening performances, free parking is available at all downtown metered parking spaces. Paid parking is available at the Civic Center Parking Garage ($2 after 5 p.m.) off of Jefferson Blvd. and Calhoun St. and the Harrison Square Parking Garage ($4 after 5 p.m. for events) on Harrison and Douglas. Fifteen minute parking meters are located on Harrison Street for patrons purchasing tickets at the Embassy box office.
Grand Wayne Convention Center: The facility is attached to Hilton Hotel. Parking Garage level 3 connects by skywalk to Hotel and Grand Wayne Center level 2.
TinCaps:  If you're arriving at Parkview Field by car, there are many different parking options. And for the most part, pricing depends on how far you want to walk. Directly across from the pavilion in front of the stadium, you'll see the Silver Lot. Entering here is a no-no unless you have a season's parking pass, but don't get discouraged. If you're next to the Silver Lot with your left side to Parkview Field, there are two team-run lots just seconds away. The first, which butts up against the Silver Lot, is the Green Lot, where parking is $4. One short block further, the Red Lot also charges $4. But if you're looking to save a buck, there's a large city lot on the south side of West Baker Street, on the non-ballpark-side of the Silver, Green and Red lots. Parking here is $3, and it's only a street width further away from the stadium gates. If you're insistent upon parking right up close, or perhaps if you're staying in the Courtyard hotel a stone's throw beyond the outfield fence, the Harrison Square Garage is at the corner of Harrison and Douglas streets, at the east end of the Parkview Field complex. Barring that, a number of $3 city lots can be found within five minutes' walk of the stadium.
Allen County Main Library:   The downtown library is a draw due to its genealogy department. If you do not have a library card parking will cost $1/hour with a maximum charge of $7 for the day. Parking tickets must be taken inside the main library for validation and or payment.
Foellinger-Freimann Botanical Conservatory: Free parking is provided in the Civic Center Parking Garage with paid garden admission. Bring your ticket for validation at the front desk.  The Civic Center Garage is located northeast of the Conservatory, across the intersection of Jefferson and Calhoun Streets--enter from Clinton, Calhoun, or Jefferson.  Metered parking is available on nearby streets; meters are free on weekends and evenings.  Handicapped accessible spaces, bus parking, and passenger drop-off are available in the circle driveway located off Calhoun Street.  Please call in advance to arrange for bus parking at 260-427-6440.  
If you prefer metered parking, you'll likely find many options. Street parking is typically .50/hour, and free after 5 pm weekdays and on weekends. At 50 cents an hour, Fort Wayne's parking rate remains lower than other similar-sized cities, such as Toledo, Cleveland, Grand Rapids, and Lansing. Most of those cities charge 75 cents to $1 an hour for downtown metered parking.