If you've read any of my previous posts, you could probably guess my answer to the following question: "What's you favorite holiday?" And considering this is October, it's an even easier puzzle to solve. It's Halloween. Of course it's Halloween. Why? Well, you know, I'm not much of a candy guy (I know, it's a little surprising). It's something in the air. The sun's a little lower in the sky and will soon be shining through naked tree branches that can no longer offer any shade. It's the chill that loiters a little later each day and creeps back a little earlier each night. It's the feeling you can't quite shake that maybe you should take one more look over your shoulder or check in the closet one last time before you go to bed. At this time of year, everywhere gets a little scarier, even Fort Wayne, Indiana. What's so scary about the Summit City? On October 22, you can find out at Downtown Fright Night.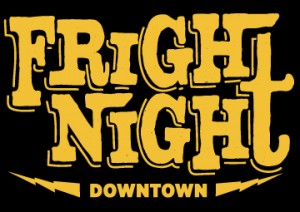 There are a number of family-friendly and adult events held each year at Downtown Fright Night, the most popular of which is the Zombie Walk. Get all "Living Dead Doll"ed up on your own or get some help from the Zombie Machine outside the Allen County Public Library, then shamble through the streets doing your best "Thriller" impression. Tour the "haunts" of the city, including the History Center, the Embassy Theatre, the Indiana Hotel, the Old Fort, the Shrine Temple, and ARCH/Alexander T. Rankin House. There are movies to watch (I'm most excited for
Attack the Block
, showing at the Cinema Center). And a number of other events – a "pumpkin zone," a Fort Wayne Dance Collective performance, a scavenger hunt – will be spooking visitors too. So hold on to someone's hand if you must (dismembered or otherwise) and come celebrate Halloween with your fellow ghouls and ghosts at Downtown Fright Night. Event times and prices of admission vary. Please check out
the Downtown Improvement District's Blog
for a full schedule.