The historic
Embassy Theatre
is going
Down the Country Line
on June 16, 2012 at 7:00 p.m. when it puts a country spin on its annual concert series.
AND YOU CAN WIN TICKETS!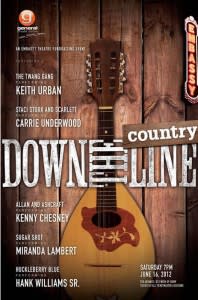 The Embassy's annual concert, Down the Line, was born six years ago to raise funds for the Embassy, and highlight local artists celebrating classic rock music. Now, the Embassy is showcasing an amazing cast of local country talent as they pay tribute to some of country music's biggest stars, old and new.
The Twang Gang
, a band that's resume includes opening for Kellie Pickler and Brantley Gilbert will bring the Embassy the hits from country megastar Keith Urban. American Idol alum and country pop star Carrie Underwood's hits will be brought to the historic Embassy stage by
Staci Stork and Scarlett
.  Local duo
Allan and Ashcraft
will welcome summer to Fort Wayne with the island tunes of country star Kenny Chesney. Down the Line 6 performers
Sugar Shot
will take the Embassy stage again and give the crowd their musical interpretation of country tough-girl Miranda Lambert's hits. To round out this healthy dose of country,
Huckleberry Blue
will put all six of its members to work bringing alive the sounds of country legend Hank Williams, Sr. It is only fitting that Huckleberry Blue play the bittersweet and melancholy sounds of Hank, Sr. since this will be the band's final stage show as a group. This line-up is a excellent representation of the great musical talent in the Fort Wayne area. I was lucky enough to attend Down the Line 6 and the performances were musically outstanding, visually stimulating (each legendary band was artistically interpreted by University of Saint Francis art students and displayed behind the performers), and all kinds of fun. I expect nothing less from Down the Country Line. If you enjoy music, then this is an event you do not want to miss. Come see all the musical talent that Fort Wayne has to offer. I will be there. All ages are welcome and tickets are available for $10 in advance and for $12 the week of the show. Tickets can be purchased at the Embassy Theatre box office, Ticketmaster.com, and all other Ticketmaster locations.
And, to win tickets, simply email your name and email address to visitorinfo@visitfortwayne.com with DOWN THE COUNTRY LINE in the subject line!