Did you have a Fisher-Price farm when you were growing up? Remember back in 1968 when it first came out, there was a red barn with a silo, a chicken, a rooster, a cow, a horse and wagon, as well as four wooden people? I named those farmers something like Ma, Pa, Freddy and Mary. (I named everything Freddy and Mary back then—even my turtles.)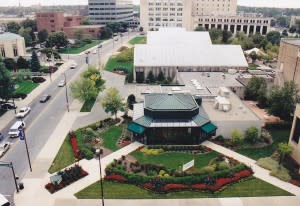 Those little people and animals with moveable parts were just the right size for little hands. Even today, they bring back such wonderful memories. I think that was when I decided I wanted to be a farmers' wife someday. Then, of course as I got older, I realized that I didn't have to marry a farmer. I could be a farmer myself. Unfortunately, all that fell apart the first time I visited a farm and sneezed my head off because I'm allergic to any kind of animal with fur.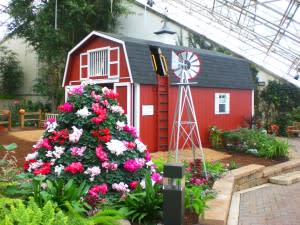 Luckily, I can still play with the Fisher-Price farm when I visit the grandkids — the new, spiffy version made out of sculpted plastic that emits an electronic "moo." And even better, I can take my grandkids to Fort Wayne's Foellinger-Freimann Botanical Conservatory through April 8
th
and we can make memories together in the interactive, life-size version of the Fisher-Price farm. There's a big, red barn with a ladder to climb up and a slide to fly down. Inside the barn, children can gather eggs, milk the cow and churn butter. And outside, the wash needs hanging and the garden needs tending. Make sure Dad and Grandpa to check out the restored 1954 International Farmall tractor (sponsored by OPI Medical) that's part of the "Down on the Fisher-Price Farm" Exhibit. A special "Family Farm Day" will be held Saturday, February 4, 10 am – 3 pm. There will be farm-related crafts to make and games to play. Stop by our country lemonade stand for something to wet your whistle and some free range popcorn. And don't forget to wander through the lush Tropical Garden filled with orchids, palms, and a cascading waterfall, or retreat to the quiet beauty of the Desert Garden, also included in the affordable admission fee: $5/adult, $3/child age 3-17. Children 2 and under free. Give the family a treat! Come out of the cold and breathe in the fresh earth and fragrant flowers while the kids burn off some energy. For more information, visit
www.botanicalconservatory.org
.