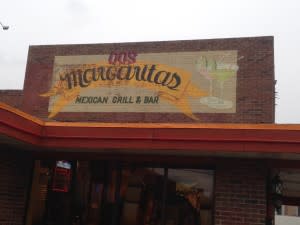 About once a week, we load up the kids to go for the best Mexican food in our area--Dos Margaritas Restaurant on North Clinton. Adjacent to the Scott's grocery store parking lot, Dos Margaritas is just off Coliseum Boulevard, making it conveniently located. As we pull into the lot, our youngest (as if on queue) excitedly yells, "dilla dilla!", referring to the cheese quesadillas he gets with rice.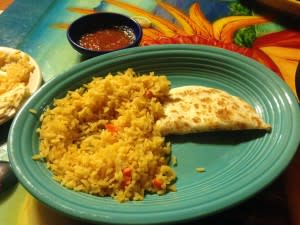 We are greeted by friendly servers, a charming fountain, and an unbelievably colorful array of hand painted murals--which cover everything from the tabletops to the booths and all over the walls.
The menu is extensive, and everything is always delicious; none of us has ever been less than pleased with anything we've had. My husband and I order margaritas (obviously wonderful here), and the kids get nonalcoholic strawberry daquiris, a fun treat for them. Chips and freshly made salsa arrive immediately, followed by queso blanco, and I can never resist an order of fresh guacamole, prepared tableside just how I like it.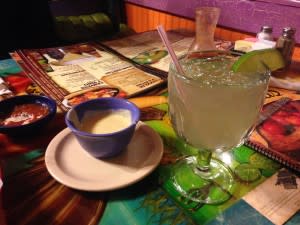 Once we've stuffed ourselves with yummy appetizers, we order a cheese quesadilla for the munchkin, beef tacos for our ten year old, and either chicken quesadillas or chicken tenders for our daughter (she claims that Dos Margaritas has amazing American food too, a bonus for any picky eaters...). Also a bonus? The ample-sized portion of rice that comes with most dishes--my picky two year old can live on it, and we always pack up leftovers for his lunches through the week.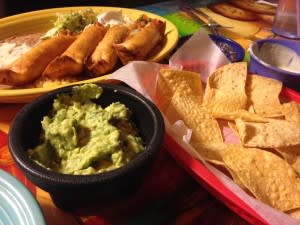 I order a Las Lomas chicken burrito, which I hardly ever stray from, and my husband normally gets fajitas--but tonight he selects the chicken flautas, which are exceptionally flavorful.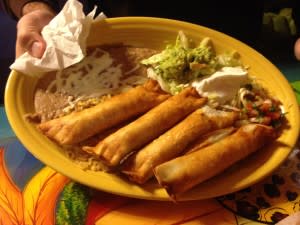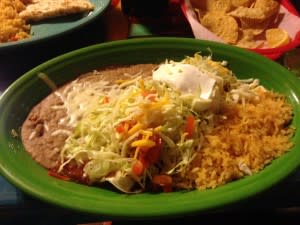 As our meal wraps up, the little one gets a tad antsy, which is quickly solved by a walk around the restaurant with his big sister. There are so many things to look at, and all the beautiful, vibrant murals to admire, that once again we have a happy camper with a happy tummy.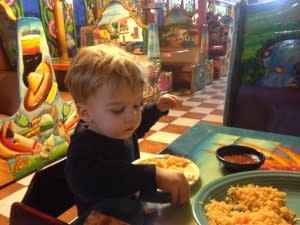 Dos Margaritas Restaurant 4230  Clinton St, Fort Wayne, IN 46806 (260) 426-1118