I am a part of the MTV generation. What does that mean exactly? It means I'm one of those people who complains that MTV doesn't play videos anymore. Yes, young people, we are legion in our nostalgia, and no, we will never stop complaining about it. At least I won't. So what prompted this tiny soapbox tirade? One of my earliest memories of MTV is watching Journey's "Separate Ways (Worlds Apart)" video. Never seen it? It's the
best
. After doing a little research, I discovered that the video was Journey's first choreographed music video, meaning it wasn't just comprised of footage shot at one of their concerts. Filmed at the Louisa Street Wharf in New Orleans, it features a number of shots of the band playing "air instruments." While a hot girl walks by. And Steve Perry sings in a sweet, sweet sleeveless t-shirt. Classic '80s. Fun fact: I was convinced for years that Neil Schon, Journey's lead guitarist, was actually my uncle Ron.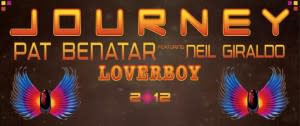 On November 11, Journey returns to the Allen County War Memorial Coliseum here in Fort Wayne, Indiana, along with Pat Benatar, featuring her longtime guitarist and husband Neil Giraldo, and Loverboy. While I've never seen either Pat Benatar or Loverboy live, I've been a fan for years. Seriously, who of a certain age isn't still "Working for the Weekend?" I have, however, seen Journey live, here in town as a matter of fact, when they toured with Styx and REO Speedwagon. And while Steve Perry hasn't performed with Journey since 1998, the band has soldiered on with various lead singers, including current frontman Arnel Pineda, who certainly has the pipes to match Perry's. It's a heck of a triple bill for fans of classic rock, or really, fans of good live music. Tickets are still available and range in price from $57.50-$97.50 (additional fees may apply). The show starts promptly at 7:00 p.m. – be there or be square! For more information, check out
www.ticketmaster.com
.