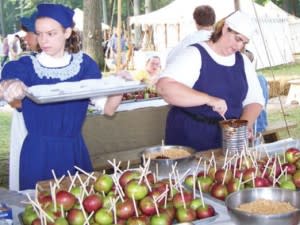 As long as I can remember, the 39th annual Johnny Appleseed Festival has been a part of September in Fort Wayne. Each year, residents and visitors alike come to celebrate the life of John Chapman, better known as "Johnny Appleseed,"  According to popular legend,  Chapman traveled the countryside on foot, planting orchards in Fort Wayne and surrounding areas. In the process, he became a national folk hero.  In fact, the grave site memorial area has been designated a National Historic Place and is identified as such on the National Register of Historic Places. The history is equally interesting as the present-day tribute to this pioneer. First, let's start with the food. Expect some fall favorites-but with a twist.  Food vendors at the Johnny Appleseed Festival are required to prepare their offerings using the methods employed during the mid-1800s. That means cooking is done over wood or coal fires! And the food is period appropriate.  So, you won't see elephant ears, fried Twinkies, or frozen ices in bright plastic cups. Instead, the food at the Johnny Appleseed Festival hearkens back to the days of the pioneers. Think  chicken, cooked over an open fire grill, ham and beans with freshly made cornbread. Grilled turkey legs and buffalo burgers and more! Once you have some good food in you belly, be sure to explore the antiques, crafts and farmers market area. Here, you can find everything from dried flowers, to jewelry. As a long-time resident and festival-goer, here are my best tips to enjoy your time at the Johnny Appleseed Festival:
Parking can be crowded. Bike to the festival if your schedule allows. Or else be prepared for a crowded parking lot.
This festival attracts a lot of bees due to the apples. Those allergic should exercise caution.
Have plenty of cash on hand. Some vendors do not accept cards.
Come hungry. As I mentioned above, there is plenty to eat!
Bring your camera. There will be plenty of excitement to capture!
Set a meeting spot. It's easy to get lost in the crowd. You don't want to lose a child in the chaos!
This festival is one the whole family can enjoy. I know people who have gone every year-and it's easy to see why! For more information on the Johnny Appleseed Festival, you can find the event listing on Visit Fort Wayne, or check out the festival's website.